Welcome to the Petfood Industry portfolio of products. Here you can discover and sign up for a variety of resources, available to qualified professionals at no charge. Since 1917, members of the global pet food industries have depended on WATT Global Media's unique blend of pet food industry information including Market Data, Top Companies listings, industry news, opinions and features. We'll help you stay ahead of the competition with the data and information you need to help grow your business. Feel free to engage with as many products as you wish. We look forward to serving you!
 
Select a product to learn more or subscribe
Receive open access to members-only premium content such as Market Data, Top Companies and magazine-exclusive articles with your free website registration. PetfoodIndustry.com is the industry-leading web portal providing breaking news and market-specific content with information on products, nutrition, production, safety, packaging and much more.
  or  
Log In
---
Petfood Industry magazine is the must-read, go-to source for anyone working, invested or interested in pet food manufacturing and marketing. Subscription is free, delivered in your preferred format of print or digital, and provides in-depth articles and research on a variety of current industry topics.
---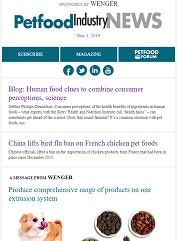 ---
We are proud to offer this exclusive collection of over 100 Pet Food Ingredient Issues columns, written by Greg Aldrich, Research Associate Professor/President, Kansas State University/Pet Food Ingredients & Technology. These articles have been published in Petfood Industry magazine since 2007, and categorized for easy reference. Users are allowed to view a sample for free! Or, receive full access to the entire Ingredients Issues Library collection for one year, with a paid subscription of only $99.95. Then view and print as many as you wish for your reference.
---
We are proud to present unique, educational content that can only be found on PetfoodIndustry.com in downloadable PDF files. Our latest featured download is the Petfood Industry Focus Series Vol. 1: Pet Food Market Trends, a collection of timely articles from the Petfood Industry editors and contributors.
---
---
Attend live or view On-Demand educational webinars from our library, that cover critical topics with new research findings presented by industry experts to help you stay up to date on the market. Webinars are approximately 60 minutes including a Q&A session at the end. Registration is free and all webinars are available to be viewed at any time via the On-Demand archives (with a Premium Website Membership registration).
---
---
Educational conferences are the fastest way to learn about the latest research and innovative information to help grow your business. Plus, they provide high value with the ideal opportunity to network, exchange ideas and do business, in the short span of a few days. Petfood Industry presents Petfood Forum, the leading pet food industry conference and exhibition, at locations around the globe. We hope to see you there!
Petfood Industry Product Portfolio