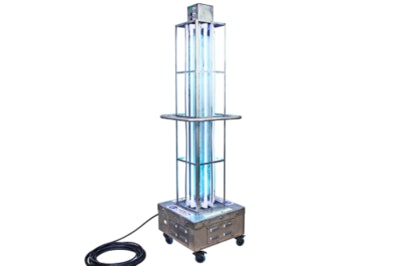 Larson Electronics LLC offers the UVC disinfection carts designed for sanitizing rooms, buildings and work sites. UVC lights can kill up to 99% of harmful bacteria and viruses, including the COVID-19. It can do this without needing to come in direct contact with potentially contaminated surfaces.
There are different carts available:
IND-UC.360-48-8L-UVC-V1-AT-KT-50C: Contains eight UVC lamps, protected by 304 stainless steel. Equipped with four wheels for mobility and 50' of cord. Suitable for 3,500 sq. ft.
IND-UC-48-4L-UVC-50C: Our four-lamp UVC solution. All lamps are secured on a powder coated cart for mobility. Designed for 800 sq. ft.
IND-CD-48-2L-UVC-50C: A two-lamp UVC mobile sanitation unit. This sanitation light is also secured to a powder coated cart and comes with 50' of cord.