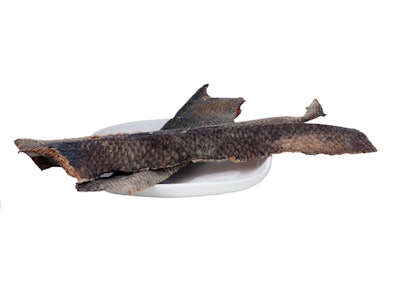 Scout & Zoe's, an all-natural pet treat company, has launched a new line of treats called Carpius Maximus with technical assistance from HORN Animal Nutrition. The Carpius Maximus treats include chewable strips called Carp Spears and crunchy carp skins called Carp Planks, both safe and healthy for canines and felines.
Scout & Zoe's chose the carp as a healthy source of US-sourced protein and amino acids. Each treat is high in nutritional value due to an abundant natural concentration of omega-3 fatty acids. Omega-3 fatty acids are essential nutrients. They support growth and early development in young pets and promote joint and overall health in aging pets. The treats are produced in the US, and the carp is gathered fresh from Kentucky rivers and lakes by local fishermen. Carp is free from pollutants such as pentachlorophenol (PCP), mercury, and other metals due to their filter-feeding mechanisms.
A friend of the environment, Dunston Quirk selected carp to launch Scout & Zoe's latest product in part due to the impact it has on rivers and lakes; carp are known to be prolific and to clog the waterways. The company helps American waterways by using the services of local fishermen to gather the invasive carp, which are then turned into treats by a family owned contract manufacturer and then packaged by adults who are intellectually disabled and are learning job skills to help them live life on their own terms.
HORN Animal Nutrition was a strategic partner in the formulation of the treats. Jane Petrolino, vice president of HORN Animal Nutrition, was hands on during the research and development of the Carp Spears treats to ensure the final product's structural integrity without compromising Scout & Zoe's philosophy of creating products with limited ingredients and the absence of additives or fillers of any kind.