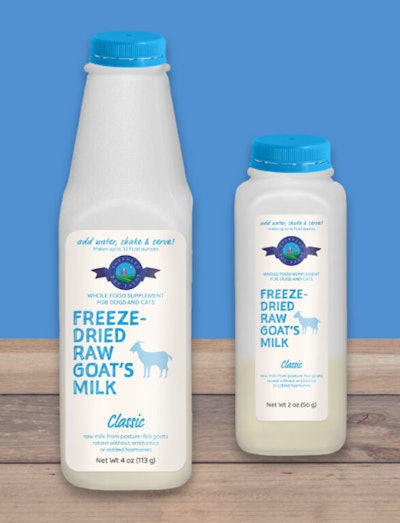 These whole food supplements, made from pasture-fed goats' pure milk, can be used as meal toppers or treats for dogs and cats, with no need for freezing — simply add water, shake and serve.
Four blends are available, including Classic (raw goat's milk), Golden Blend (with organic pumpkin, squash, sweet potatoes and oranges), Super Greens Blend (with organic kale, spinach, broccoli and green beans), and Super Fruit Blend (with organic blueberries, cranberries, bananas and mango).
Freeze-dried for shelf stability, these blends offer digestibility, flavor and essential nutrients, now available in 1 quart or 1 pint bottles.