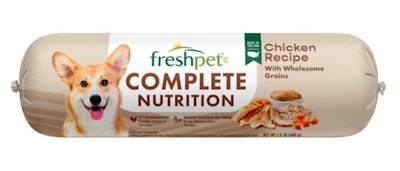 Freshpet introduces Complete Nutrition Chicken Recipe, providing essential nutrients for dogs, featuring fresh chicken, oats, carrots and spinach in a 1.5-pound roll.
Made in the U.S. in Freshpet kitchens, the product ensures vitamins, minerals, amino acids and essential oils for canine health.
The roll joins Freshpet's diverse portfolio of 50+ recipes and treats, offering plant-based and grain-free options, available nationwide in grocery and pet stores.