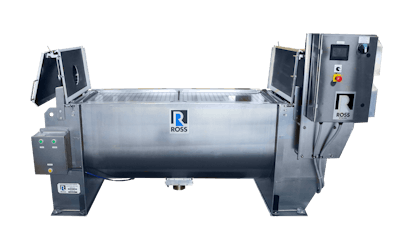 The ROSS Model 42N-18SS is constructed from type 316 stainless steel, featuring polished interior surfaces for easy cleaning.
It has a maximum working capacity of 18 cu.ft. and is powered by a 10 HP gearmotor for processing materials up to 60 lbs/cu.ft.
The blender boasts a solid double ribbon agitator design, with safety features including a two-piece perforated safety grating and split folding covers.
It offers convenient operation via a 4" color touchscreen with various controls and features a pneumatically operated 4″ dust-tight knife gate valve for product discharge.