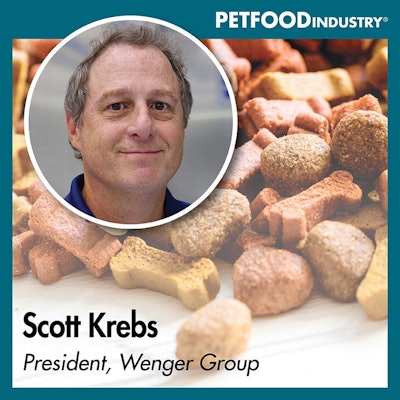 Transcript
I spoke with Scott Krebs, president of Wenger Group, about what he's seen in the world of pet food extrusion over the decades. We also talked about the future of extrusion, what he's most excited about in his new role as president, and what he sees happening in the ever-evolving world of pet food.
Transcript
The below transcript is from Episode 40 of the Trending: Pet Food podcast, where I spoke with the President of Wenger Group, Scott Krebs, about his experience with extrusion in the pet food industry over the last 30+ years. You can find the episode at www.PetfoodIndustry.com/trending-pet-food-podcast, on SoundCloud or on your favorite podcast platform. This episode originally aired on July 26, 2023.
A SPECIAL NOTE FROM THE HOST
Hello, podcast listeners! This is your host, Lindsay Beaton, and I'm jumping in to ask a quick favor. I've launched an audience survey for Trending: Pet Food, and I would absolutely love to hear your thoughts on the podcast now that we're nearly 50 episodes in. You can find the survey at www.PetfoodIndustry.com/podcast-survey, And there's also a QR code floating around on the podcast Instagram @trendingpetfoodpodcast, as well as on LinkedIn. The survey will be active through the end of August, and if you could take just five minutes or so — I promise; I took the survey myself to make sure! — to provide your insights it would mean a lot for the future of the show. Thanks so much, and enjoy the episode!
(We want to thank AFB international for sponsoring this podcast. AFB is the premier supplier of palatants to pet food companies worldwide, offering off-the-shelf and custom solutions that make pet food, treats and supplements taste great.)
Lindsay Beaton – Editor, Petfood Industry magazine and Host, Trending: Pet Food podcast Hello, and welcome to Trending: Pet Food, the industry podcast where we cover all the latest hot topics and trends in pet food. I'm your host and editor of Petfood Industry magazine Lindsay Beaton, and I'm here today with Scott Krebs, president of Wenger Group. Hi, Scott, and welcome!
Scott Krebs – President, Wenger Group
Hi, Lindsay. Thank you so much for the opportunity. It's been great to have this opportunity with WATT Global Media, knowing that team since its inception back in the Petfood Forum days — I believe I've attended every one of them — and call Greg Watt and Steve Akins friends, and glad to have you as a friend as well, Lindsay.
Beaton: Scott Krebs brings 30+ years of extrusion processing equipment experience to his current position. He first joined Extru-Tech as a project engineer in 1991 after completing a Bachelor of Science degree in mechanical engineering from Kansas State University. Thanks to his diverse skills, Scott made the transition to the sales staff in 1994 as director of European sales. Six years later, in 2000, he returned to the engineering staff as director of engineering, prior to assuming the position as executive vice president and COO of Extru-Tech, in 2003. Scott began his new role as president of Wenger Group in June 2023 and will drive strategic objectives and lead the Wenger team in the U.S., Denmark, Brazil and all other countries.
In 2022, Wenger Group was acquired by Marel, a global provider of advanced food processing systems, software and services. Wenger will operate as a standalone business division and leverage Marel's global reach and digital solutions to grow and expand the business. Headquartered in Sabetha, Kansas, USA, Wenger Group currently produces and markets the industry's most complete lines of extrusion processing systems.
Scott's extensive experience in the extrusion space is why I've brought him on today to answer this question: What has the evolution of extrusion looked like in pet food?
So Scott, you have been doing this for a long time. And when I get the opportunity to speak with people who've been in the business for a while, I always like to pick their brains about what their career path has looked like. How did you end up where you're at now? And did you think this was where you were going to end up when you started your career?
Krebs: Yeah, I think nobody knows exactly what path they're going to take and where they're going to end up in their career. So, my career path, Lindsay, started in my hometown community of Sabetha, Kansas. Sabetha, Kansas, for those who don't know, is about a population of 2,500 people but we are a two-for-one poll community during the work day, meaning that we swell to about 5,000 during the work day because of the industrial base that is within Sabetha, Kansas. My father, Ron Krebs, worked at Mac Equipment, which is now Schenck Process. I watched my father work tirelessly traveling the Midwest and developing key relationships with clients that eventually became more like trusted friends. My mother, Angela, worked equally hard for the state of Kansas as a driver's license examiner — no, I didn't have to wait in line. Both career choices were working with the public and interacting with people; they allowed me to see how to conduct yourself with honesty and integrity.
I attended K-State and received a degree in mechanical engineering. During my university studies, I came back to my Sabetha community for the summers and was fortunate to have a family friend teach me how to weld industrial equipment. A great fallback career, but it was a 59-hour-per-week job as a college student in the summer that still wanted to go out in the evenings … but it did entrench the work ethic into my DNA. So, after university I interviewed at several locations across the USA but again found myself back in my hometown of Sabetha accepting a position with a young startup company (at the time), Extru-Tech, in 1991.
As they say, the rest is history, as it was my first and only career until the recent position change as president of the Wenger Group of companies. I've been very fortunate to encounter many talented people in this industry, ranging from clients to suppliers, that have become friends; that relationship experience has prepared me to take on a greater responsibility for the entire Wenger Group of companies that consists of Wenger, Wenger Brazil, Source Technology and Extru-Tech.
Beaton: I've been to Sabetha. And it's really interesting how it's a small town, but so many of the people who end up in Sabetha during the day are there for the industrial aspect. And it really is a hub and an important part of the pet food industry, especially on the machinery side. What is so special about Sabetha? What is it about its location that makes it so good for the pet food industry and for machinery?
Krebs: We're part of the pet food corridor that runs in the Midwest. So oftentimes with the ingredient supply and the constituents required for the pet food industry, about a 500-mile radius from St. Joseph, Missouri really constitutes a lot of manufacturing. So you have Hill's Pet Nutrition in Topeka, you have the JM Smucker Group, you have Diamond Pet Foods — the list goes on and on of people in the area. And then K-State with its grain sciences, and also the other universities in the area through their engineering, just a gravitational pull back to Sabetha where, although extrusion wasn't invented here, certainly with the Wenger family (LaVon Wenger in particular) really grew out that industry, and we're very fortunate that our whole educational system from Sabetha High School on through universities prepare students to come back in the grain sciences and extrusion technology.
Beaton: Let's talk more about extrusion technology, because I imagine you've seen quite a bit since 1991. From your perspective, how has extrusion, particularly in the pet food space but even just in general about what an extruder is, and does and is capable of, how has that all evolved over the years?
Krebs: I'm of course very biased, but I consider that extrusion technology, again while not invented in Sabetha, about certainly has been refined here. We are honored to be part of the companion animal corridor here in the Midwest. Extrusion processing in its simplest form is a rotor and stator where we add inputs, mechanical energy, steam, energy, water, and through heat and pressure we're able to form extrudate and raw material inputs into a finished product of kibble in the particular case of pet food, but also into aquatic feeds, where we need to feed the world with the protein sources that are available that can't always be done out of the oceans, and then recently a lot more into the human food side, where we're doing alternative proteins and choices for the human food side. Wenger really pioneered the textured vegetable protein side of the business where it was done as meat extenders into protein sources to make that source go further for the world.
Wenger extrusion started in the late 1950s, with two units sold to the Ralph Wells Company in Monmouth, Illinois. These early extruders included segmented components that imparted high-speed mixing along with mechanical shear to form the kibble. In 1965, a great step was made in the extrusion world where the Wenger Technical Center was opened. This allowed Wenger to perform demonstration runs prior to the client purchase of high-dollar capital equipment, vetting and verifying that the systems would do what they wanted them to do. And additionally, the technical center allowed Wenger technicians to perform true product research and development. An added feature of the technical center was continued refinement of the extrusion hardware itself, adding processing features like increased preconditioning that provided softening of the raw materials, that assisted with wear characteristics in the extruder barrel, and the refinement of that hardware continues to this day to meet customers' exacting needs for the products they want to produce.
Another chapter in the history of extrusion was in 2011 when the Food Safety Modernization Act (FSMA) was brought into law That added gravity to the extrusion processing equipment that provided a critical control point (or CCP) kill step in the process by reaching particular moisture temperature and pressure profiles that eliminated pathogens. Continuous improvement was undertaken to ensure sanitary designs are now incorporated that assist clients with their current HACCP and good manufacturing practices needs. The entire Wenger group of companies is most certainly proud of its innovative heritage. Moving forward we continue that same mindset but with increased emphasis on making sure innovation is aligned with the business and sustainability requirements of our clients.
Beaton: I expect that having a technical center was a pretty big boon when it came about, just because not only the ability to show off your equipment to potential customers who can see it in action, but like you mentioned the research and development opportunities that you all of a sudden had on site. And with the way the pet food industry has been evolving in the last 20 or so years, with so many different ingredients being used now that weren't necessarily on the radar a couple of decades ago, and more challenges in being able to extrude pet foods with higher meat content, and all these different ingredients and to be able to create a quality product, how has being able to play around with that and innovate on site given you a leg up in the space — or even just given you unique insights into how things work?
Krebs: No, it's been invaluable. It really was, you use the term "boon," and it certainly was because as we did the demonstrations, you learn each and every time of those demonstrations, but you also then get, if there's leftover ingredients, you do some trials that are just true innovation. And the ingredient deck of pet food has certainly increased significantly over the years. It's easy to find at least 50+ ingredients, if not upwards of 90 ingredients, that make up a complete, whole, balanced pet food. So being able to play around with those individual constituents, if it's from Miscanthus grass, or it's into a number of other pieces of protein additions and value-added additions into the process. Certainly those days of about 50% of use days are true R&D, not just customer demonstration. So to your point, Lindsay, invaluable experience — and done not on a lab-type extruder that is just minuscule pounds per minute, but true production models that can do up to four to five tons per hour. So you get a very good replication of what's happening in the field versus just what's on a laptop.
Beaton: What are some of the most interesting things you've dealt with over the years, whether it's a new ingredient that a customer came to you guys with and went, "Hey, can we make this work with an extruder?" or a really interesting project, or a way the industry changed that you didn't expect or couldn't have foreseen when you started in this industry in the 1990s? What have been some of the really cool things that you've been a part of?
Krebs: I think the cool things are those ingredient pieces, the additions of things that we would not have thought of. In the beginning, in the 1990s, were really feed manufacturers moved into pet food just as a value-add proposition. Feed ingredients and livestock areas are such razor-thin margins that pet food allowed a bit of margin that allowed some different innovation to reach into it.
Most interesting in the transition is we had working animals but now they're companion animals. Here in the Midwest where I grew up we had our hunting dogs, we had our livestock caretakers, our herders, we had mouse catchers from the cats out on the farm and most, if not all, animals were kept outdoors. So, the transformation to where we now have companions that are absolutely members of our family, the humanization of animals, is such a great joy and awe to me from the Midwest that I never saw coming. My wife Christine, along with our three daughters, have three four-legged siblings in our family: Full-blooded Huskies and Australian Shepherd Husky mixes, so they keep us well exercised, and they truly are members of our family. And the variety of products on the market that meet specific breed and health demands currently … look at the sheer amount of facings as you go to any pet retailer and look at what's on the shelf and the new product developments that will continue to evolve. And the Wenger group of companies are going to be right there in the midst of all that. So those are some of the great things and interesting pieces we've seen.
For particular projects, I find it fascinating that in the 1990s for an extrusion facility growing out of a feed industry was very tight footprint, produced five tons per hour (so 20 tons per hour of pet food) that was housed in a very wide open, compressed building footprint and constructed at really US$15 million. Now here in 2023 an extrusion facility produces 60+ tons per hour volume, and the footprint is food safe into pre-kill and post-kill areas, ingredient streams into the single product can range up to 50 to 90 constituents as I said earlier, the overall footprint has quadrupled, and the cost to build a greenfield plant have escalated to 15+ times. The equipment of the process — extrusion, conveying, drying, coating, cooling and controls — is about 8% to 10% of the overall investment, but the right extrusion partnerships are critical to the success of the business. Wenger group of companies as the 80+year of success is a foundation from which to grow, and now with Marel a sense our employees are really excited about what a larger, globally connected enterprise can provide going forward.
Beaton: That is a lot of growth. And I think anybody who works in the industry has some vague idea of how the industry has grown over the years, and that it has indeed grown a lot and diversified and evolved, but just hearing what the size of production used to be compared to what it is now and that it's quadrupled is wild. That's a lot of growth. And you've been around for quite a bit of it. So, what have you seen in terms of challenges? Because I have to believe there's been a lot of growing pains between those first facilities and what they look like now.
Krebs: Challenges to meet the consumer demands. They are more educated than they ever have been. They compare ingredient decks. When pet food was first available it was just an extension in your feed store. You grabbed it, it had better cook and palatability and it was better than whatever the animals were finding themselves in foraging. So big challenges are always around: Improved consumer awareness and scope and scale as you continue to grow out your business. You make the first few extruders and then you realize what is there for the replacement part share, and a lot of the equipment we make, Lindsay, has got a 30-year-plus lifecycle. So there's a continuous predictive and preventative maintenance that goes into things, and what works for a small group of like-minded persons isn't always scalable.
So that's why I'm pleased that the Wenger family conducted a very thoughtful, careful and meticulous process when it selected the next steward of the business. I've been fortunate to be around both Extru-Tech and Wenger for that 30+ years, and Marel's values of unity, innovation and excellence align very closely with the long-existing Wenger family values. We truly have great people with tremendous personal value systems. That's back to the Sabetha community entrenching those in all of us that work here, and the challenge will be to ensure we always keep the customer at the center of our decision process as the business continues to grow in scope and scale.
Beaton: Let's keep talking about Marel for a minute, because it's always big news when there is an acquisition or a merger in pet food. And a lot of times it happens on the end of production, right? It's the manufacturers that we talk about a lot: This pet food company's buying up that one, and why are they doing that. Wenger Group is obviously incredibly, incredibly well-known in the pet food industry, and so an acquisition involving you guys is going to make some waves and be of very high interest. Can you talk a little bit more about the process going into that, and what considerations — you've already mentioned some of them — but a little bit deeper into the considerations when you were in talks with Marel, and what really made them the right fit for you guys to be able to continue to serve the pet food industry the way you want to?
Krebs: You know, that's a great question, and I was fortunate enough to sit through that due diligence process and believed again, the challenges of scope and scale as a family-run business and to its third and fourth generation just became an opportunity to find the best steward of that business. So going through it with Marel, it was a strategic buyer versus private equity. That was one of the keys in there. Marel has purchased multiple companies, upwards of 20+ in their existence, and they've really only divested one of those. So that was a big piece of them in the partnership. And again, their parallels of unity, innovation and excellence just really aligned with the previous family values.
I have nothing against private equity, I think in our industry, Lindsay, you've seen it from our end clients' standpoint. It is an attractive market. It is not recession-proof but it has been largely recession-resistant, and therefore there is an opportunity for private equity to come in, add capital, grow the business, add strategic pieces and then be able to move that company in a five- to seven-year process. With Marel we found a partner, we believe, that — for the first two years, in fact, they've said, "We want to continue to let you operate as you are and be able to pull best practices. We don't want to fully integrate and advocate that you should change or do any of these things when there has been a very successful business." And so we know what is required to interact with our clients. On that experience, Marel recognizes that we can continue that function but add force multiplication through their 8000+plus employees and opportunities of customer centers around the world.
Beaton: Was the global component a big consideration for you guys in expansion? Because you're obviously incredibly well entrenched in North America because that's where you're based. And you have a presence overseas and have for quite some time, but being able to partner with somebody who is international as well could give you some additional insights or additional inroads that you didn't have before.
Krebs: Oh, absolutely. Very astute point, Lindsay. That was a consideration. In any given year, although it would appear most of our business in the pet food companion animal arena is in North America, we're 50% international. So we do have that diversity, and having an international provider with Marel and growing out that side of the business, that mitigates risk with being in one sector, in one geography. So that absolutely was a consideration in selecting the right partner, of growing out that international business footprint as well.
Beaton: We've talked about history, we've talked about the present day, so now I want to know what you're most looking forward to in your new role as president. And what do you see as the future of extrusion in the pet food industry?
Krebs: Yeah, I'm really excited about the opportunity. Going through the interview process with Marel, they were very diligent. Even though I had an extensive amount of experience in the industry, they were careful to make sure that I was not entrenched in legacy ideas, but could accept scope and scale of a US$2 billion+, 8,000-employee organization. I'm really excited that I've watched from afar with my board when I was at Extru-Tech, being LaVon Wenger and Don Wenger primarily, of me knowing all of the talent and skill sets that exist in our greater 500+-employee organization.
My leadership philosophy is one of servant leadership and organizational health. I believe the ultimate standard for a leader is to work themselves out of a job. I don't intend to do that anytime soon, but I want to build a great team that holds themselves accountable to goals and objectives. Serving others is all of the following, in my opinion: It's true, it's noble, it's pure, it's admirable and it's excellent. I personally find great joy in creating a team that's based in trust, that can have conflict around ideas, align on that, create clarity, reinforce that clarity, and support made decisions at every level of the organization.
So, the future of extrusion in the pet food industry will continue to evolve as more and more at-line data collection allows increased process optimization. Everything that executives measure of quality, performance, productivity, client experience, innovation, sustainability and flexibility is built into our extrusion platforms. Marel wants to transform the way food is processed, which is yet further alignment to the Wenger Group way of thinking.
Beaton: Scott, this has been such a great conversation. I love talking to people who've been involved in some aspect of the pet food space for a long time because so much has changed over the years, and it's fascinating to me to hear exactly how and what things are happening now that no one even considered decades ago. Before we wrap things up for today, let's do a little plug: Where can people find more information about you and more about Wenger Group?
Krebs: Well, you can find me at wenger.com. You can certainly email me at any time with skrebs@wenger.com. The Extru-Tech website is also a part of it; I would be remiss not to mention our partners of Wenger Brazil and Source Technology in Denmark. Those are all sectors that make up the larger Wenger Group. But again, please reach out to us at wenger.com to start that conversation, and we'll find a solution for your extrusion processing considerations.
Beaton: Perfect. That is it for this episode of Trending: Pet Food. You can find us on www.PetfoodIndustry.com, SoundCloud or your favorite podcast platform. You can also follow us on Instagram @trendingpetfoodpodcast. And if you want to chat or have any feedback, I'd love to hear from you. Feel free to drop me an email: podcast@petfoodindustry.com. And of course, thanks again to our sponsor AFB International, the premier supplier of palatants to pet food companies worldwide offering off-the-shelf and custom solutions that make pet food, treats and supplements taste great. Once again, I'm Lindsay Beaton, your host and Editor of Petfood Industry magazine, and we'll talk to you next time. Thanks for tuning in!