Brand Insights from Phileo by Lesaffre
Wherever they live with dogs or cats, pet parents expect to have access to complete and balanced foods which encourage healthy intestines and long-lasting well-being in their furry companions. Good health is demonstrated by correct fecal consistency, alongside sound evidence of vitality and appetite.
When it comes to digestive health, probiotics are today's masterpieces; their range of action modes allows coverage of all major elements of intestinal care. Between 2017 and 2021, the demand for dog probiotics by pet parents has doubled, according to Google. To a lesser extent, cat parent demand has also increased.
Source: GlobalPETS newsletter, April 2022
The Food and Agriculture Organization and the World Health Organization define probiotics as 'orally administered live microorganisms that, when consumed in adequate amounts, confer health benefits on the host'.
By this definition, to obtain the adequate amount, stability and viability are prerequisites in keeping micro-organisms alive and enabling them to deliver maximum benefit to the host.
It is therefore key to ensure that the probiotic will be appropriately delivered via food, and then from the food to the gut!
Actisaf® Sc 50 PET - the new probiotic for premium dry food
Actisaf® Sc 50 PET is a unique yeast probiotic, specifically selected for dogs and cats from Phileo by Lesaffre's rich collection of natural proprietary strains.
Based on its expertise in strain biotechnology and food technology application, Phileo by Lesaffre has selected Actisaf® Sc 50 PET (CNCM 5660) as a Saccharomyces cerevisiae yeast strain, specifically formulated to address technological challenges in relation to pet foods. Actisaf® Sc50 PET has been specifically designed in patent pending, micropearl form to be blended with premium palatants before dry food coating.
Actisaf® Sc 50 PET can solve the first technical challenge of probiotic viability in petfood
The viability of Actisaf® Sc 50 PET was tested in a blend with powder palatant for coating on dry food, and for both dogs and cats.
On dry dog food, this innovative probiotic showed a record-breaking viability of 18 months, solving the challenge of stability which often prevents the use of probiotic claim.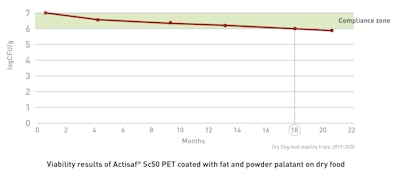 The same trials were run on cat dry foods. Stability was proven to be even longer than for dog food: a bit more than to 2 years!
This improvement, compared to dog recipes, is seemingly due to the classically lower water component of cat diets.
The value of Actisaf® Sc 50 PET for petfood producers is that they are, from now on, able to guarantee probiotic stability throughout the usual shelf life of dry food (18 months), thus securing claim validity to end-consumers and supply chain convenience for both dog and cat foods.
Actisaf® Sc 50 PET can also solve the second stability challenge, from mouth to gut.
Once viability is secured in the food, the second step is to check viability from the pet's mouth to the gut action site.
If the strain is not well adapted and the live cell is prematurely killed upon ingestion, its metabolic activity can be lost before any beneficial effect has a chance to begin.
Once ingested, probiotics are exposed to extreme conditions as they pass through the digestive system:
Harsh stomach environment, characterized by very low pH
Bile acids, secreted early in the duodenum
Pancreatin
To evaluate the resistance of Actisaf® Sc50 PET in relation to these three points, Phileo by Lesaffre launched different assays, based on standard and widely recognized in vitro methodologies.
Actisaf® Sc50 PET is resistant to stomach pH, bile and pancreatin, and is thus stable in the pet's gastrointestinal tract.
Having solved all viability challenges, Actisaf® Sc 50 PET was then tested and validated by pet parents to obtain the full value chain.
On the subject of end consumers, the final purchase decision is in the hands of pet parents, so it is key to evaluate how Actisaf® Sc50 PET is appreciated when owners see benefits in their furry companions.
Phileo by Lesaffre partnered with Panelis to carry out home-based studies on dogs and cats (considered digestion sensitive by their owners) which had been supplemented with Actisaf® Sc 50 PET.
Studies were first carried out to evaluate ideal pet digestive health, as perceived by owners, and the different key signals pet parents use to assess this. Then, a protocol was developed to measure the progressive efficiency of Actisaf® Sc 50 PET, as perceived by pet owners over a 6-week period:
Pets were fed with Actisaf® Sc 50 PET for the first three weeks.
Supplementation was then stopped for the following three weeks to measure potential long-lasting benefits.
Dog in home evaluation
102 pet parents who considered their dogs to have sensitive digestive health, agreed to evaluate progress in their own households.
Dog owners perceived weekly improvements in their pets' digestive health!
63% of owners reported improvements when questioned at the end of the cure. Specific benefits related to stool consistency, appetite, and the reduction of gas and belly sounds.
As a specific example, dogs' stool consistency improves week after week thanks to Actisaf® Sc 50 PET supplementation.
With Actisaf® Sc50 PET, 90% of dogs show good feces consistency.
Actisaf® Sc 50 PET is clearly reaching the targeted action site quickly and displaying its benefits, to the great satisfaction of pet parents.
Cat in home evaluation
94 pet parents, attentive to digestive health, also agreed to evaluate the outcome in their own households.
62% of owners saw improvements in cat digestive health after the first week, with further progression after the second one.
Actisaf® Sc50 PET supplementation shows noticeable improvement in stool consistency from its initial condition of being 'very wet but not liquid'. Indeed, this type of stool significantly decreases after 21 days of treatment and is still lower than the initial condition even 21 days after the end of treatment. The grade of stool with well-defined shapes increases constantly during the cure and stabilizes after the supplementation stops.
A progressive and significant weekly evolution in stool odor is apparent, according to the owners, during the treatment:
A significant number of cat owners noticed that stool odor was 'more pleasant' than usual.
Overall, 70% of cat owners consider that the supplement is effective in terms of their pet's general condition.
Actisaf® Sc 50 PET is the ideal new generation probiotic for premium dry foods, reporting valuable claims for pet parents' satisfaction throughout cat or dog food shelf life.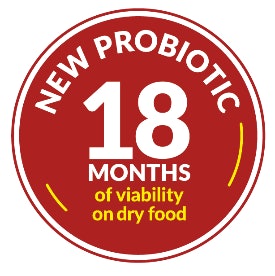 78% of cat owners and 66% of dog owners would purchase a product containing Actisaf® Sc 50 PET, for use mainly as a preventive cure.
Please download the White Book or contact us to learn more about, the probiotic for premium dry food.
Website for accessing the White Book: Actisaf: Improve Animals' Performances | Phileo by Lesaffre (phileolesaffre.com)
Contact: Shelly Grace, Phileo Pets Manager, North America, s.grace@phileo.Lesaffre.com
---
This statement has not been evaluated by the FDA. This product is not intended to diagnose, treat, cure, or prevent any disease. Not all products are available in all markets nor associated claims allowed in all regions. The information provided in this document is to the best of our knowledge, true and accurate. However, products must only be used in compliance with local laws and regulations and we cannot guarantee freedom of use for every intended application or country.