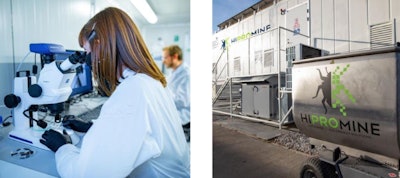 Courtesy of HiProMine
Polish insect-based protein maker HiProMine has purchased a land plot of 42,000 square meters in Karkoszów, close to the country's western border with Germany, to build its second new production facility. The project is part of the company's strategy to become a leading protein supplier to the European pet food industry and increase its production capacities.
HiProMine says its flagship product, HiProMeat, is an "unrivaled source of unprocessed, natural and raw animal protein," as well as an "effective response to the growing popularity of fresh meat food for dogs and cats."
Michał Pokorski, chief executive of HiProMine, said the business is currently finalizing the tendering process to select a construction company that will build its new factory and is arranging financing for the project.
In the past, HiProMine attracted investments from major businesses such as Uber, whose chief executive at the time, Travis Kalanick, announced in 2016 that his company would invest in four European startups including HiProMine.
New insect protein manufacturing capacities
The investment in Karkoszów will increase 40-fold the company's manufacturing capabilities, which currently comprise its plant in Robakowo, Poland.
"Construction work is scheduled to be completed within a period of 12 months," Pokorski said. "We plan to launch this work this fall [2022]. The designed production capacities of the new factory will be 25,000 tons per year."
In the long term, HiProMine aims to operate more than two production facilities, according to its CEO. "At this time, we cannot disclose when and where they will be built, but the demand for insect-based protein is growing faster than the production capacities of its producers," Pokorski said.
Ingredient exports to rise
Asked about the company's international expansion efforts, the CEO replied that exports already dominate HiProMine's sales, and, with the launch of the new factory in Karkoszów, their share will further increase.
"The pet food industry in Poland is much smaller than markets such as Germany, the UK or even the Czech Republic," Pokorski said. "As of today, export sales constitute more than 85% of our sales, and after the launch of the new plant, this value will exceed 90 to 95%. Other markets where we are currently present include Lithuania, Denmark, Switzerland and Norway."
HiProMine was established in 2015. Since July 2022, the manufacturer has been listed on the New Connect index of the Warsaw Stock Exchange.