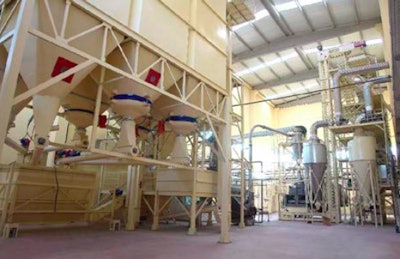 Turkey's pet food sales have expanded to about TRY 360 million (US$115 million) per year. The market is dominated by local manufacturers, with four out of the top five companies in terms of annual sales based in Turkey, accounting for 70% of domestic sales.

While Turkish pet food makers are eyeing increased sales to foreign markets, local industry representatives report that Turkish sales have been increasing by 8% per year, according to the information obtained by local business news site Gida2000.com.

Izzet Saban, the chief executive of Tropikal Pet, the country's largest pet food producer, says that currently, about 38,000 tons of pet food are sold in the Turkish market per year, but local factories are fitted with a capacity of as much as 68,000 tons per year. As a result, local producers say that they are aiming to expand their exports while they also eye increased sales in the Turkish market.

Saban said another major issue for the industry's development is the country's tax policy, and the fact that pet food is treated as a luxury product by Turkish lawmakers. As such, it is subject to a higher value-added tax (VAT) rate than other food products.

"Pet food is considered a luxury product. Currently, the applicable VAT rate in Turkey is 8% for food products, and as much as 18% for pet food," Saban said. This is "one of the negative factors which have an impact on the sector," according to the chief executive.
Saban said that the Turkish pet food market is still far from being saturated, as the rate of persons who feed their pets with pet food is far below Europe's rate of 70%. Turkey has a population of about 77.7 million.

Tropikal Pet was set up in 1999 and is headquartered in Turkey's largest city Istanbul. In the first phase of its development, the company served as the distributor of cat and dog food imported from US producer Midwestern Pet Foods, as well as other brands, which included Ferplast, Beaphar, ICC, Four Paws, Gardena and Weber.

Tropikal Pet expanded its product range with the launch of a new production facility in 2003, which enabled the company to establish itself as the first domestic pet food producer in Turkey. In 2010, US-based investment fund Riverside Co. acquired a 60% stake in Tropikal Pet. The purchase marked the first Turkish investment for the US fund.

The producer's leading pet food brands include Champion and Goody, available at more than 3,500 pet shops, veterinary clinics, local and national chain stores across Turkey, according to data released by Tropikal Pet. The Istanbul-based firm says it exports its output to 16 countries located on three continents, including Germany, Italy, Lithuania, Iran and Iraq.
Other leading industry players in the Turkish market Kaner Group, Cagatay and Lider, whose factory is pictured above.