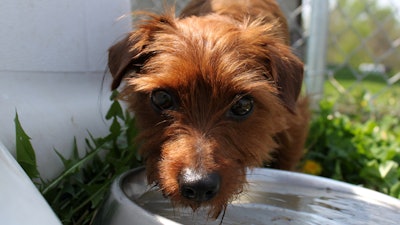 Andrea Gantz
Ethos Pet Brands is the name for the parent company of Canidae and Natural Balance pet food companies. In March, the pet food companies announced their impending merger, but had yet to determine a name for the combined company. The transaction was a true merger, with both companies maintaining their individual brands, executives from both companies told Petfood Industry in March. The investment firms L Catterton and Nexus Capital Management have 50-50 ownership of the merged organization.
Ethos is the original name of Canidae's manufacturing facility in Brownwood, Texas, USA. The Brownwood facility opened in 2012 and will now manufacture products for both brands.
Bringing the two companies together will allow Canidae's factory to produce for both brands, D'Alessandris said. The arrangement will help improve fill rates for both companies.
"Natural Balance has a co-packer procurement strategy," Donnelly said. "Co-packing will continue to be an important part of our strategy for dry, for wet and kibble."
The merger will help Natural Balance diversify and manage production risks, he said.
While the two brands are both in the premium pet for specialty space, there are some different channels and retailers among the two companies, Jacopo D'Alessandris, Co-CEO and chief commercial officer at Canidae Pet Food, told Petfood Industry in March. Likewise, the merger will open opportunities for expansion in the U.S. and internationally.
Canidae makes their own pet food, Canidae also grows some of its own ingredients through a partnership with a farm in Kansas. Natural Balance will eventually gain access to that source of ingredients, although the recipes and formulations have yet to be developed.
Integrating the supply chain helped Canidae avoid the bottlenecks and shortages that have plagued other pet food companies during the past several years.
Last year, Canidae consistently kept fill rates above 90%, while many competitors were below 50%, D'Alessandris said. While Canidae had some challenges sourcing certain ingredients, for example lamb from New Zealand or vitamins and probiotics from overseas, most of everything else was available because the company controlled those sources.
History of Natural Balance, Canidae, investors
As part of the transaction, L Catterton, a leading global consumer-focused investment firm and majority shareholder of Canidae, and Nexus Capital Management, an alternative asset investment company and majority shareholder of Natural Balance, are each contributing new growth capital to support the successful integration and strategic long-term expansion of the combined company.
Founded in 1989 by actor Dick Van Patten, Natural Balance has exchanged ownership several times, first merging with Del Monte Pet Products in 2014, which became Big Heart Pet Products and was acquired by J.M. Smucker in 2015. In late 2020, Smucker sold Natural Balance to Nexus Capital Management. In 2022, the company had revenues of US$280 million, according to the Top Pet Food Companies Database.