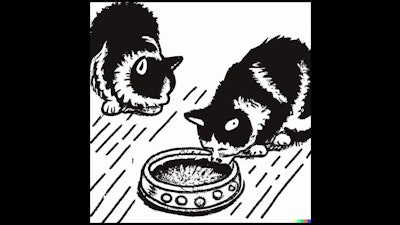 created by Tim Wall using DALL-E 2
Unlike other regions where particular nations served as headquarters for a preponderance of pet food companies, such as Brazil in Latin America, the European pet food industry spreads from the North Sea to the Atlantic, around the Mediterranean and inland. These 10 Europe-based pet food makers appeared in Petfood Industry's Top Pet Food Companies database for 2022.
---
United Petfood
Belgium
US$800,000,000
United Petfood specializes in private labeling dry pet food, wet pet food, treats and snacks. The Belgian family business operates 19 pet food manufacturing facilities in 8 countries and sells in more than 80 countries worldwide.
---
Partner in Pet Food
Hungary
US$755,000,000
From its base in Hungary, Partner in Pet Food is a European pet food producer, supplying retailers, discounters, specialty pet retailers and online specialists in 38 countries. The company makes a full value range of dry, wet and semi-moist cat and dog food, alucups, pouches and snacks from nine production facilities spanning four countries: the Netherlands, Hungary, Slovakia and the Czech Republic, with an additional sales office in Poland. It produces nearly 500,000 tons of pet food yearly.
---
Agrolimen SA
Spain
US$753,000,000
Agrolimen SA is a Barcelona, Spain-based firm whose subsidiary Affinity Petcare is a leading European supplier of foods for dogs and cats. Agrolimen SA also operates a joint venture with British-based raw food manufacturer Natures Menu, through Affinity Petcare, and owns US-based raw food producer Nature's Variety.
---
Deuerer
Germany
US$750,000,000.00
Deuerer is a private-label manufacturer in Germany that also owns several major European pet food manufacturers, including Vitakraft, Pets Choice and Villeneuve Pet Food. The company is among Europe's largest pet food interests, with sales extending to Asia and North America.
---
Heristo AG
Germany
US$700,000,000.00
Heristo AG owns the Saturn Petcare Group, which includes private-label giant Saturn Petcare and Animonda Petfood, with manufacturing plants in Bremen and Blaufelden, Germany, Hattern, Netherlands, and Terre Haute, Indiana and more than 1,000 products. This company does not publicly disclose financial data, so annual revenue was estimated or based on survey responses.
---
Affinity Petcare SA
Spain
US$520,000,000
Affinity Petcare, subsidiary of Agrolimen SA, is a leading company in dog and cat nutrition in Spain and also has relevant positions in other European countries. In addition to its Barcelona, Spain, headquarters, Affinity has offices in Paris, Milan, Snetterton, UK, and São Paulo. The company supplies product to more than 20 countries.
---
Monge & C. S.p.A.
Italy
US$500,000,000
Monge is the largest Italian pet food producing company for dry and wet food for cats and dogs. The company operates a 188,000-square-meter production and logistics complex with a fleet of 45 trucks to deliver products all over Italy. The company serves the pet food markets of more than 100 countries and regions worldwide.
---
C & D Foods
Ireland
US$495,000,000
C & D Foods is among the leading European manufacturers of private-label pet food, producing upward of 675,000 metric tons per year in a range of formats: pouch, alutray, canned and dry. The company is the pet food division of the Ireland-based ABP Food Group.
---
Farmina Pet Foods
Italy
US$367,000,000
Farmina is a pet nutrition company with a presence in more than 70 countries throughout the world.
---
Vafo Group
Czech Republic
US$350,000,000
Vafo Group is a privately owned company that develops, produces and distributes premium and super premium pet food and supplements to more than 70 countries worldwide. The Czech company, which also offers private-label services, produces more than 180 thousand tons per year. Recent growth is partly attributable to strategic acquisitions. Subsidiaries include, VAFO Praha s.r.o., Allco Heimtiernahrung GmbH & Co. KG, Prima Pet Premium Oy, Prima Pet, Sverige AB, Pandivere L.T. OÜ, Carry Pet Food sp. z o.o. and Pooch & Mutt Ltd.