While even mid-range grocery stores are adding organic produce sections, the organic trend is still a small part of the dog and cat food market.
Organic – as part of the ingredient name – appears in 8.6 percent of dry dog food recipes and 6.9 percent of wet dog food recipes listed our database of over 7,000 products sold in the United States.
Cat food showed a lower ratio, with organic in 7.3 percent of dry food recipes and 5.7 of wet food recipes.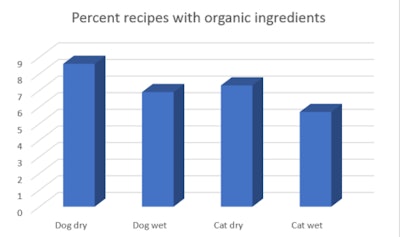 The percentage of dog and cat food recipes containing organic ingredients isn't high.
As to how organic is identified in dry dog food, three companies have organic in their names and have 13 recipes between them. Two other companies have product lines labeled organic, with 5 recipes. So the branded organic products make up less than 1 percent of the recipes in the entire database.
The most common organic ingredient listed, is organic alfalfa, which appears in 3.7 percent of the recipes in the database. Half of the recipes including organic alfalfa are from one brand, and nearly every one of that brand's recipes contains organic alfalfa as its only organic ingredient.
Other common organic ingredients include organic kelp, organic barley grass and organic chicken. There is a long list of organic ingredients, and a small number of brands that focus on nearly all organic ingredients. These brands include Castor & Pollux, Newman's Own, Timberwolf, Natural Planet and Petguard.
The majority of the recipes with natural ingredients contain only one organic ingredient.