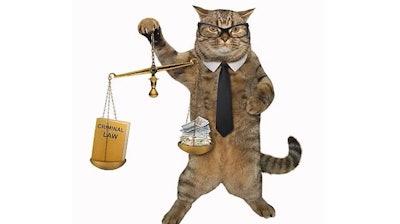 (Iridi | BigStock.com)
Nestle Purina Petcare Company was named in a class action lawsuit alleging that the company markets pet foods as natural, although the products contain synthetic ingredients, reported Legal Newsline. The lawsuit was filed in the U.S. District Court for the Southern District of New York. This legal action was initiated on October 12. The lawsuit alleges various violations, including breach of express warranty and violations of New York General Business law, among others.
Two pet owners, Adrienne Pietres and Brenda Natoli, are the lead plaintiffs, along with others in a similar situation. The central claim made by the plaintiffs in this class action is that Nestle has been misleadingly marketing its wet and dry pet food products as natural. This branding is alleged to be an attempt to attract health-conscious pet owners who seek pet food without synthetic ingredients. The plaintiffs assert that Nestle's representations about their pet food being "natural" are false, as their products contain several synthetic ingredients, including copper sulfate, pyridoxine hydrochloride and menadione sodium bisulfite complex.
Furthermore, the plaintiffs argue that consumers would not have purchased these products or would not have paid as much had they been aware of the actual composition of the pet food.
In response to this lawsuit, the plaintiffs and the class they represent are seeking monetary relief, as well as interest, the option for a trial by jury, and any other appropriate forms of relief. Legal representation for the plaintiffs in this case is provided by Joshua Arisohn and Julian Diamond of Bursor and Fisher PA in New York City. This legal action highlights the importance of clear and accurate labeling in the pet food industry, particularly concerning the use of the term natural in product marketing.
Similar class action lawsuits against pet food companies
Over the years, other pet food companies have faced similar lawsuits related to natural ingredient claims. In 2017, plaintiffs aledged that Rachael Ray's Nutrish wet and dry dog food packaging used deceptive marketing by prominently labeling the products as natural, despite containing "chemicals and artificial and/or synthetic ingredients, which are well-known unnatural, artificial additives and preservatives." In 2019, J.M. Smucker was the target of a class action lawsuit filed by two pet food purchasers in New York. The consumers allege that Big Heart falsely markets Nature's Recipe brand pet foods as all natural. The plaintiffs claim that the presence of certain chemicals rendered this claim incorrect.
The root of these lawsuits may be that Association of American Feed Control Officials (AAFCO) has defined "natural" for dogs and cats. AAFCO guidelines allow pet food to be marketed as "natural with added vitamins, minerals and trace nutrients." That term 'with added vitamins, minerals and trace nutrients' would need to appear with the largest or most prominent use of the term "natural" on each panel.