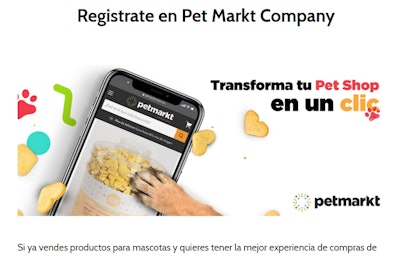 Amidst increasing difficulties that independent pet shops and veterinarians are facing due to the COVID-19 lockdown policies in Mexico, a new tool is arriving that may help them change the local pet food competitive landscape.
Petmarkt, a local premium pet food distribution company, is launching an innovative and disruptive platform to support veterinarians and independent pet shops. Such a tool is bringing pet food suppliers closer to consumers.
Boost for pet food in veterinary channel
The digitalization of the pet food market in the Mexican veterinary channel was long awaited, as veterinarians have been losing ground due to the tight pricing strategies of online retailers. With this new online platform, veterinarians and pet food sellers are no longer required to stock pet food for reselling; now they can place orders through an application and send the products to their consumers directly using a cargo company.
Petmarkt works like a B2B-wholesale marketplace, where sellers have their virtual shop and more. Additionally, they can generate product catalogs to share with their customers through social networks or by email.
Why does digitalization for pet food matter?
In Mexico, there are more than 10,000 veterinary clinics that can sell pet food. However, it is difficult for a pet food producer to reach the entire network. Thus, for some premium pet food brands, veterinarians have become brand ambassadors.
Furthermore, the veterinary channel has several barriers and other difficulties, such as cash flow and higher prices for pet food. Generally, prices for pet food at veterinary shops are 20% to 50% more expensive than in other channels. This is a consequence of intermediation and the higher markups that push prices up.
Petmarkt is reducing one shackle of the intermediation chain by selling products straight to the veterinarian or to the final consumer, at wholesale prices, using the full digital experience. Given the intense pricing battle that Petco and other online retailers are undertaking in the local market, Petmarkt seems to offer a good option and a plausible commercial arm that most veterinarians need in this current context.
View our continuing coverage of the coronavirus/COVID-19 pandemic.