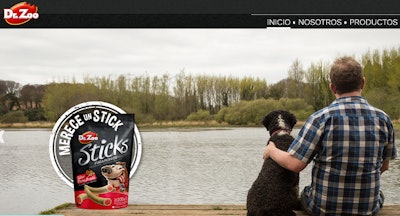 As the global economic crisis intensifies, pet food producers have two main routes of action. One is going with the flow of uncertainty while remaining resilient; the other is being proactive, creative and innovative. Dr. Zoo, an Argentinean dog snacks and treats company, has chosen the latter alternative.
Martin Proetto founded the company in 2002 after a protracted economic downturn in Argentina hit the local pet food industry. According to Proetto, after that crisis, foreign pet food producers exited the market, leaving supermarket shelves empty. The situation offered an opportunity for local producers, and Dr. Zoo took advantage of the distribution network of its bird feed business and launched a product line of snacks for dogs.
One of the main attributes of Dr. Zoo's snacks and treats is the similarity to human food products, with a focus on indulgence and strengthening the bond between owners and pets. The most creative products of the company are sticks, filled snacks and individually packaged ice creams for any-time consumption.
Dr. Zoo is currently expanding in all channels and embarking on internationalization to several markets, including the opening of a subsidiary in Spain to supply the European market.
Treat market has good growth prospects amid economic slump
According to Proetto, although the local pet food market is well-developed in terms of product quality and array, dog snacks have low penetration in Argentina. Furthermore, despite the snacks category posting double-digit growth rates, the comparison base is relatively small.
In the context of COVID-19, the pet food market is still growing, yet the pandemic magnifies the economic crisis that has dragged on in Argentina for several years. Moreover, high inflation causes many pet owners to trade down to lower-quality and inexpensive brands.
Innovation is necessary to grasp future growth opportunities
In Argentina, the current restrictions of the financial system are limiting investment. Nonetheless, the local pet food industry continues innovating, launching new nutritional concepts and ingredients and developing better marketing campaigns.
Besides the domestic market offering plenty of room for further growth, Proetto believes the pet food industry has great opportunities abroad, as Argentina is well-known for producing high-quality pet food products at competitive prices.
There are several local companies ready to export, yet exchange rate restrictions by authorities may represent a barrier and a lost opportunity. Thus, it is essential that local producers have certainty to invest.
View our continuing coverage of the coronavirus/COVID-19 pandemic.