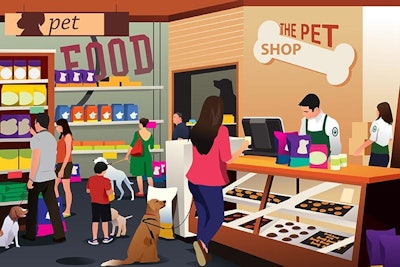 Artisticco LLC | Bigstock.com
In the U.S. pet food market, private label has traditionally lagged behind not just branded products but also the private label pet food category in much of the rest of the world, especially regions like Europe.
Yet high pet food inflation in the U.S. over the past 12 to 18 months may be driving more pet owners to turn to store brands to help control the cost of feeding their pets, especially as those products more and more approach branded pet food products in terms of quality, health and nutrition benefits and reputation.
Private label pet food and treat growth
Though inflation has started to slow in the U.S. and other markets, it has definitely hit consumers hard, particularly in essential categories like groceries and, for pet owners, pet food. Thus, it's no surprise that data from MRI Simmons showed an increase in the number of U.S. adults who agreed that "generic/store-brand products are as effective as brand-name products," coming in at 82% in 2022. That was up from 76% just four years before, in 2018. (David Sprinkle of Packaged Facts shared the data during his Petfood Forum 2023 presentation.)
Still, private label sales for all consumer product goods (CPG) declined in the first quarter of 2023 in both dollars and units, according to Bryan Jaffe, managing director, and John Gulvezan, vice president, of investment firm Cascadia Capital in their "Pet Industry Overview Spring 2023" report. That was for the total CPG category; pet care, including pet food, was another matter entirely.
Presenting and analyzing data from Numerator, Jaffe and Gulvezan reported that 16.6% of pet care product units sold in Q1 2023 were private label products, up .77%. Private label cat food and treats accounted for a 7.1% dollar share of all cat foods and treats sold in all U.S. retail channels for the quarter, representing a 19% increase, while private label dog food and treats had a 15.1% dollar share, up 6%.
Private label pet foods outpacing branded products
Data from NielsenIQ presented during SuperZoo 2023 corroborated the Numerator figures. Private label pet consumables drove the strongest equivalent unit (EQ) growth across all U.S. retail channels for the 52 weeks ending July 1, 2023, according to Andrea Binder and Sam Smith of NielsenIQ. (The research firm uses EQ as a metric to compare the number of products sold, taking into account the variable number of products offered in different consumer selling units.)
Specifically, that EQ growth in the pet retail channel for private label pet foods and treats stood at 8.1% for the period, far outpacing branded categories; value-priced pet food brands declined 11.7% in EQ, middle-priced brands registered only 1.5% EQ growth, and premium branded pet foods decreased .7% in EQ. In all other channels (AOC), private label pet foods saw 1.7% EQ growth, and across all channels (pet retail plus AOC), 3% EQ growth.
Expanding out to general sales, all the pet food categories, including the various branded price levels, saw growth for the 52-week period, but private label growth still outpaced all the others, to the tune of a 15.4% increase in pet retail, 22.6% in AOC and 20.2% total (AOC plus pet retail). That compares with, for example, premium branded pet food growth at 10.2%, 18.1% and 11.1%, respectively.
Private label leading pet care innovation
Other data from NielsenIQ shows private label pet care outpacing brands in terms of innovation, too. In an August 2023 analysis, "The state of private labels in the US," the company included pet care (all pet products, not just pet food) among the categories leading in private label innovations, especially compared to branded products.
For the 52 weeks ending April 22, 2023, the number of private label innovations in pet care in the U.S. increased 2.8%, versus a 5.3% decline in branded innovations. That means of all pet care innovations, private label ones accounted for 27.2%. (It's not clear if "innovations" equate to new product launches in NielsenIQ parlance.)
Interestingly, alcoholic beverages and confectionary and snack items were the only other categories showing growth in private label innovations — healthy growth at that, at 15% and 9.7%, respectively. Those two categories also saw decreases in branded innovations, while the other categories analyzed — baby care, food, home care, non-alcoholic beverages and personal care — experienced innovation declines in both private label and branded products.
I suppose the fact that pet care ranks with alcoholic beverages and candy/snacks in any way could inspire various interpretations, but I think the main message here is that innovation is happening in categories that have experienced high inflation and, thus, are seeing private label growth. Or at least where consumers perceive a more affordable way to still indulge (their pets, or in their desire for adult beverages and their own snacks and treats).