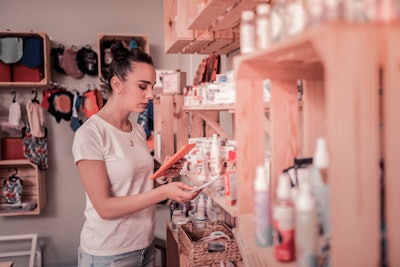 Zinkevych l iStock.com
Though prices for pet food and many other products have started to fall in most markets, consumers worldwide are still trying to make ends meet under the cloud of higher inflation in most fast-moving consumer goods (FMCG) categories, including the groceries and other food they buy for their human and furry family members. In fact, as of mid-2023, global consumers were spending 18% more on average than in 2021, according to new data from NielsenIQ — meaning their purchasing power has significantly decreased.
As of June 2023, NielsenIQ pegged the global FMCG inflation rate at 9.8%. That's down from 10.4% in May 2023 and definitely lower than the two-year high of 13.6% in January 2023, but as the NielsenIQ information points out, that means consumers are likely buying at lower volumes. And, even if the rate of inflation slows to 3% over the next 12 months, the compounding effects of that on top of what we've experienced to date means consumers will be paying 21% more than in 2021. If FMCG inflation continues at a higher rate, then obviously, that raises everything else.
Consumers are resilient
So what should FMCG companies do? NielsenIQ has advice: "In the short term, FMCG brands should temper all avoidable price increases, as many shoppers may be forced to take drastic actions with their budgets. In the long-term, industry players might want to consider what the key areas of cost growth are, and if these areas are likely to go away. There are numerous industry leaders that are re-engineering their value chain to operate more efficiently in an eco-system that is likely to be pressured by extreme weather events, energy cost fluctuations, labor shortages, sustainability legislation and increased disruption."
I didn't say it would be easy advice to read or adopt! Fortunately, though, there is some positive news. "The challenging ecosystem of the last three years has given way to a new uptick in consumer resilience, as people have developed unique coping mechanisms," NielsenIQ says. Those include a continued and greater focus on budgeting, value and tradeoffs. For example, more consumers are turning to private label products, with 44% believing they are usually good value for the money, 40% thinking they're a good alternative to name brand products and 35% thinking they are as good as or better than name brands.
Thanks to the resilience and coping mechanisms, 65% of global consumers surveyed by NielsenIQ are optimistic their financial positions will be improved by end of 2023, and 19% who have suffered job or income loss said they feel back on track financially.
Pet care inflation data
While the global FMCG report from NielsenIQ doesn't include any category specifics, one on U.S. consumer product goods (CPG) inflation from the company does. It's unclear if NielsenIQ equates FMCG with CPG or if they're tracking two slightly different sets of data in these reports. Regardless, what the U.S.-specific report shows is that overall CPG inflation stood at 5.2% in July 2023, down from 6.1% in June and its high of 12.1% in September 2022. At the same time, "unit consumption" (volume) was down 1.8% for the month of July alone, despite the slowdown in price increases.
In terms of individual CPG categories, this U.S. information includes pet care overall, not just pet food, but that offers some context. Under the headline "Rising prices are still plaguing key departments," a "department inflation heat map" identifies pet care as one of the plagued, at 10% inflation for July 2023, along with baby care, dry grocery and florist (all also at 10%) and household at 8%. All those are considered higher than the average of 7%. Flirting with that average — and to provide more context for where pet care ranks — are bakery at 7%, frozen and health and beauty (both at 6%).
As with the FMCG inflation report, this U.S. report from NielsenIQ shares data on how consumers are coping with the higher prices. For example, private label sales were 4% higher in July 2023, and year over year, value-based retailers have seen a 6% sales increase and now hold a 42.4% share of CPG sales, mainly in food categories. Retailers are also responding to the circumstances: Promotional sales rose 7% in July, accounting for 26.3% of CPG sales.
Even as price increases start to slow, NielsenIQ doesn't expect that to offset the decline in consumption, calling for a "strategic focus on gaining market share within specific categories" to attain growth, the report says. "Identifying the driving forces and impediments to business success, optimizing trade expenditures and collaborating effectively with retail partners are crucial steps for navigating the evolving landscape."