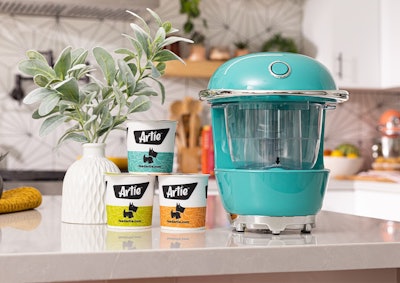 Courtesy Artie
Names like Cuisinart and Keurig are familiar to most consumers, especially ones who cook and drink coffee. But neither name is one you would normally associate with pet food — at least, not until recently.
On August 21, 2023, Cuisinart announced, it will be launching a home appliance for making dog treats, the GoodBone Treat Maker, developed in partnership with Conairpropet, a company typically known for pet grooming supplies and equipment.
In March, Artie, a new countertop appliance for cooking pre-formulated and packaged dog meals at home, won the grand prize in Nestle Purina's 2023 Pet Care Innovation Prize, the pet food company's annual "incubator" competition. (I recently heard a pet food professional say the closest comparison to the Artie appliance is the Keurig coffee maker, which "literally an 8-year-old could use." Hence the Keurig reference — and indeed, the Artie meal cups do resemble Keurig cups; they're just a little bigger.)
Pet food has long borrowed from human food trends when it comes to products, especially in terms of ingredients — and the human food industry has long seen pet food as a growth and expansion opportunity. But the move of cooking appliances into the pet industry is a new example of the pet food-human food crossover.
Meal-kit service crossing over into pet food
Another new crossover is happening in the food preparation and delivery service area: HelloFresh, a meal-kit company offering subscription plans to consumers, recently announced its pet food version, called the Pets Table.
Subscription-based pet food companies have been around for several years now and have continued to grow in popularity and sales. No doubt HelloFresh saw opportunity there for expansion of its business; it wouldn't be surprising to see similar meal services follow. (Blue Apron, Home Chef, others: Are you paying attention?)
It will be interesting to follow this development and see what level of competition it poses to all the direct-to-consumer subscription companies focusing exclusively on pet food that have a head start on Pets Table. I imagine HelloFresh's first group of target consumers for Pets Table are its existing customers who own pets.
Keeping pets' unique nutritional needs in mind
It's encouraging that HelloFresh/the Pets Table, as well as Artie, recognize that dogs and cats are not small, furry humans and have their own unique nutritional needs, with both entities working with veterinary nutritionists (board certified in the case of Artie) to properly formulate the kits or meals provided with the service or appliance.
It's a little concerning that with its GoodBone Treat Maker, Cuisinart and Conair are relying on pet owners to provide their own ingredients; in fact, the company is encouraging purchasers to use ingredients they already have on hand. "Our treat maker's custom Cuisinart recipes are designed to utilize commonly found ingredients in most kitchens," Carmen Slaven, director of sales and marketing for Conair, told my colleague, Tim Wall. "We understand the importance of convenience for pet owners, so we have crafted recipes that require easily accessible and familiar ingredients, ensuring that your furry companions can enjoy delicious treats without the hassle of searching for specialized items."
Hopefully, users understand that treats are not complete and balanced meals for their pets, and they're intended for supplemental feeding only. (And, hopefully, they understand the concept of overfeeding and overtreating, a key driver behind the rise in pet obesity.)
Pet feeding as an experience
The common offering among the GoodBone Treat Maker, Artie and the Pets Table is the experience and bonding that pet owners can enjoy in preparing meals or treats for their pets — more than just opening a pet food or treat bag or can, yet with the knowledge that the food or treat will still be nutritious and healthy for the pet. Many consumers today are looking for such experiences, not just using or consuming a product; and pet owners especially want that nurturing connection with their furry family members.
Watch for more companies to hop on the pet-feeding-as-an-experience bandwagon in the months and years ahead.