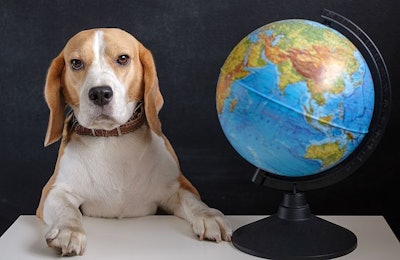 androsov858 | BigStock.com
New consumer price index (CPI) data issued for the U.S. this week heralded good news all around, including for pet food and pet care inflation, as retail prices continue to decrease from painfully high levels in 2022 and even earlier in 2023. That welcome decline seems to be happening in many markets around the world.
In the U.S., the overall CPI stood at 3% year over year (YOY) in June 2023, down from 4% YOY in May, according to new figures released by the Bureau of Labor Statistics (BLS). For food at home (groceries), a category close to pet food, inflation fell to 4.7% YOY from 5.8% in May.
Pet care and pet food inflation numbers in the U.S. are still tracking at levels three times higher than the overall CPI, but they continue to decline. (Thanks to John Gibbons of PetBusinessProfessor.com for compiling and analyzing the "petflation" data.) For the pet category overall, inflation came in at 9.6% YOY in June, falling below 10% for the first time in several months. (It was 10.3% YOY in May.)
Pet food inflation is still a significant driver, standing at 12.1% YOY in June, but that represents the second consecutive month of decreases, with May at 13.8% YOY, which was down from 14.6% in April. That the YOY decline in June from the previous month reached more than a percentage point is encouraging news indeed.
However, pet owners are still feeling inflationary pain, as prices for veterinary services and other pet services rose again in June.
Lower pet food prices follow lower producer prices
No doubt the lower inflation for pet food in the U.S. in June stems from pet food producers paying lower prices for raw materials, transportation and everything else that goes into making their products. The producer price index (PPI) fell to 9.4% YOY, down from 14.2% in May, according to Gibbons. He cautions that BLS doesn't finalize PPI data for four months, so the figures for June are preliminary; but if they hold up, it likely portends that pet food retail prices will continue to decline.
As has been the case for a while, wet dog food led the way with a 15.8% increase YOY in PPI, though that dropped significantly from 30.5% in May. With cat food, the dry/semi-moist category had the highest rise at 19.4% YOY, unchanged from May. Overall, cat food saw a 13.3% increase YOY, and dog food, 8.3%. Both were also significant decreases from May (at 18.7% and 13.9% YOY, respectively), which again, represents an encouraging sign going forward.
Pet care inflation news in select markets
Looking at specific markets around the globe, pet care and pet food inflation — and/or its close proxy, human food inflation — also appears to be falling, though it remains stubbornly high in some places. In the European Union, for example, which tracks prices for all pet products including pet food, inflation stood at 16.8% YOY in May, the latest month for which full data is available. That's down from 17.5% in April, but still high. Similarly, human food inflation was at 13.8% YOY, down from 15.1% in April. Overall inflation for the EU was at 6.1% YOY; that overall figure is available for June and checked in at 5.5% YOY, so at least prices do seem to be falling.
In the U.K., which has also seen some of the worst inflation worldwide, pet care prices increased 14.4% YOY in May (also the most recent data available), while human food was even worse, at 18.3%, though that was down from 19% in April. Canada saw inflation of 10.7% YOY in May for pet food and pet supplies. Human food inflation was at 9% YOY, unchanged from April, indicating an ongoing challenge.
For a selection of markets, pet food or pet care inflation is difficult to find, but using human food as a proxy, prices are mostly trending to the positive with the exception of Japan, where food inflation reached 8.6 % YOY in May, up slightly from 8.4% in April. In an article earlier this year, the chairman of the Japan Pet Food Association was quoted saying pet food companies there raised their prices 3 to 10% or more in 2022.
In Australia, another large pet food market, prices and inflation are reported by quarter. For the first quarter of 2023, pet product prices increased 2.4% for the period, according to Pets International, though that was much lower than the 6.7% for the same quarter in 2022. Meanwhile, human food prices increased 8% YOY, down from 9.2% the previous quarter.
The average price of a pet food unit in South Korea has reached US$3.85 in 2023, according to Statista, up from US$3.76 in 2022, though human food inflation dropped to 3.87% YOY in May, down from 5% in April. Similarly, in Mexico, human food prices increased 9.1% YOY in May, down from 10% in April. For Brazil, the figure was 4% YOY in June, down from 5.5% in May.
Let's hope these downward trends continue throughout the year.