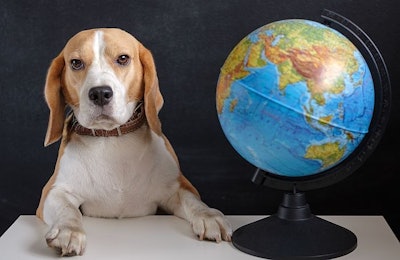 androsov858 | BigStock.com
Pet food has a reputation for being a continuous growth market no matter the overall economic conditions or other factors affecting the world. While well deserved, it has come with qualifiers lately — namely that much of the growth (especially when it comes to pet populations and spending during the pandemic) has happened chiefly among higher-income households, and that most, if not all, of the dollar increases have been due to high inflation.
Do those conditions portend trouble ahead? Not necessarily, at least not according to projections for pet food sales, spending and pet population growth through 2026.
High pet food growth in some developing regions, lower segment growth
The projections from Euromonitor International, courtesy of ADM in its "2023 Insights Report," definitely show growth continuing through 2026, albeit at lower rates. For example, the global pet food market's size is expected to reach US$146 billion, representing a compound annual growth rate (CAGR) for 2026 of 4.3%, according to Euromonitor. That follows small but steady CAGRs in the preceding years, such as a projected 5% for 2023. From 2021 to 2022, the market grew at 3.3% CAGR, reaching US$123 billion. (It's projected to finish 2023 at US$130 billion.)
As in pre-pandemic times, developing regions such as Asia-Pacific and Latin America are expected to have the highest growth rates from 2022-2026, at 7.6% and 7% CAGR, respectively, followed by the Middle East and Africa at 4.3%. Despite also being a developing region, Eastern Europe is projected to grow at 3.9% CAGR, below the global rate, likely affected by the Ukraine-Russia war. The two largest and most developed pet food regions, North America and Western Europe, will grow at 3.4% and 2.1%, respectively, according to Euromonitor.
In terms of different pet food segments, it's no surprise that cat food categories are projected to increase more than those for dog food; that tracks with other recent market growth data and projections. Specifically, from 2023-2026, cat treats are expected to grow by 4.9% CAGR, according to Euromonitor, with dry cat food at 5.7% and wet cat food at 3.5%. For dogs, the 2023-2026 CAGRs for treats, dry food and wet food are 4%, 3.5% and 3.2%, respectively.
What's interesting, though, is that these projected growth rates are all lower than actual rates from 2017-2022, which probably reflects the role of inflation and other factors, particularly when it comes to discretionary purchases like treats. Cat treats, for example, grew 9.3% CAGR from 2017-2022, nearly twice the rate as what's projected for the next several years, Euromonitor data showed. The difference in CAGRs for dry cat food wasn't as significant — 6.1% from 2017-2022 and 5.7% for 2023-2026 — but wet cat food increased by 4.7% in the previous five years, compared to the 3.5% projection for the next four years.
With the dog categories, treats rose by 5.9% CAGR from 2017-2022, compared to the 4% projection for 2023-2026. The rates for dry dog food are 4.3% (previous five years) and 3.5% (next four years) and, for wet, 4.5% and 3.2%, respectively.
Focus on health and other trends drive higher pet food spending
ADM's report centers on the drivers for pet nutrition and how those will impact the future, including trends like the continuing focus on wellness (physical and mental) and increasing consumer interest in sustainability, personalization and specific health areas such as digestion, bone and joint, skin and coat, immune system, cardiovascular, weight management, anxiety and cognitive function. The same concerns that most people have for their own health, of course.
To that end, pet owners are seeking product innovation, ADM says, and that's causing ongoing premiumization and "commercialization," which, in turn, is spurring pet food spending. Again, considering the caveat that higher spending is coming mainly from owners with higher incomes, it's worth noting that Euromonitor does project consumer spending on pet food to increase through 2026 in all regions.
That amounts to US$269 per pet in North America, up from US$246 in 2022 (which was up from US$229 in 2018), followed by US$198 in Western Europe, up from US$188 in 2022. It's also interesting to note that Western Europe is the only region that saw a dip in spending in 2022, down from US$196 per pet in 2018.
All the developing regions have experienced steady growth in pet food spending per pet since 2018 and will continue to do so through 2026, according to Euromonitor, though at much lower levels than in the developed regions. Those levels range from US$53 (Asia-Pacific and Middle East/Africa) to US$67 (Latin America) to US$76 (Eastern Europe) in 2018, with projections for 2026 ranging from US$60 (Middle East/Africa) to US$76 (Asia-Pacific) to US$89 (Latin America) to US$116 (Eastern Europe).