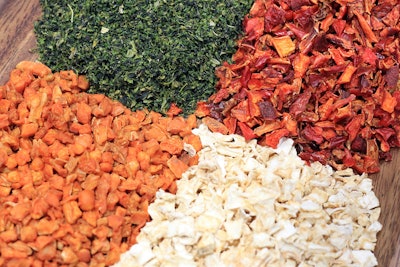 Andrea Gantz
A new study from Kerry shows half of North American pet owners surveyed are willing to pay more for pet foods with functional benefits, with the key to their willingness lying in a keen interest in health and nutrition. While this is nothing new for the pet food market, it reinforces the ongoing strength of the health and wellness trend and corroborates other survey findings, including ones revealing a growing preference for science-backed ingredients and claims.
Other research from Kerry, presented during Petfood Forum 2023 by Soumya Nair, global director, consumer research and insights for the ingredients company, dug deeper into pet owners' concerns for their furry charges and how they align with the drivers for their own food purchases.
Pet food for preventive health, backed by science
The latest Kerry study, titled "Navigating the Modern Pet Parent" and reported by PetBusiness.com, surveyed more than 1,800 dog and cat owners in the U.S. and Canada. It showed 85% agreeing that high-quality pet foods can effectively serve as preventive health care for their pets, and nearly 80% believing science-backed ingredients are key to providing the best benefits.
These data correlate with some from Packaged Facts, which found in its own surveys (conducted in February and March 2023) that 78% of U.S. dog owners and 84% of cat owners consider pet food as most important to their pets' health, among other products. Similarly, 68% and 67%, respectively, said they look specifically for products to improve their pets' health and wellness.
Regarding the science angle, the surveys showed 71% of U.S. dog and cat owners "like the idea of pet food backed by scientific research, with 33% strongly agreeing and 38% somewhat agreeing," according to David Sprinkle, Packaged Facts' director of pet market research.
Sprinkle referred to a reinvigoration of sales of superpremium science-backed pet foods and treats stemming from pet health concerns being elevated by the DCM scare, followed by the COVID-19 pandemic. "The frenemies tug-of-war between 'natural' and scientific/veterinary positioning also continues, with the latter emphasizing functional nutrients such as probiotics and omega-3s," he wrote.
What's good for me is good for my pet
In her Petfood Forum 2023 presentation, Nair of Kerry said that to understand what drives pet owners, we must understand consumers' evolving priorities in their own food and beverage habits. She zeroed in on "purpose-driven taste" and "hints of health" as two umbrella categories of drivers.
Drilling down into that for pet owners and how they translate to pet food product development, Nair shared data showing that 39% of U.S. pet food product launches in 2022 had "no additives/preservatives" claims, along with 34% with "high source of protein," 27% with "natural/no artificial ingredients," 20% with "digestive health" and 15% with "immune health" claims.
Nair characterized these types of claims, particularly the first three, as mainstream ones dominating for the past five years. Looking ahead, claims like "joint health," "brain health" and "bone health" are rising in popularity, with compound annual growth rates among pet product launches of 24%, 11% and 11%, respectively.
All these claims, mainstream and emerging, appear often on human food products, too. And, just as respondents to Kerry's surveys consider long-term health a key driver behind the importance of functional benefits for themselves, chosen by 60%, 35% chose healthy aging as a driver for purchases for their pets. Similarly, digestive health figured heavily for both humans and pets, at 50% and 34%, respectively, as did joint health, 38% and 32%, respectively.