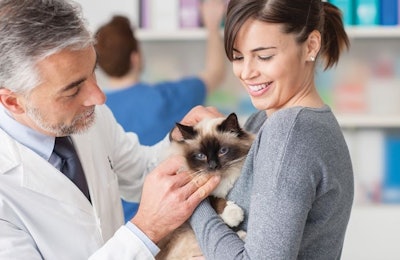 stokkete l Fotolia.com
While most pet owners — 96% in a recent survey — said their veterinarians are their most trusted source for pet nutrition advice, only 20% of veterinarians surveyed said they proactively offer such advice during most client visits. The surveys, conducted by the Purina Institute, prompted the research arm of Nestle Purina Petcare to issue the "Purina Institute Handbook of Canine and Feline Clinical Nutrition," a digital reference guide.
"The free, product-agnostic e-book is written by over 40 global experts in veterinary nutrition, internal medicine, cardiology, dermatology, emergency care and other specialties," read a press release from the Purina Institute.
According to the veterinarians surveyed, a common challenge when discussing nutrition with clients is the pet health misinformation they often encounter online. Yet the Purina Institute survey indicated the majority of pet owners prefer to turn to their veterinarians; and 78% of respondents consider nutrition expertise an important to extremely important consideration in their satisfaction with their veterinary clinics.
Pet food companies stepping up to combat pet nutrition misinformation through veterinarians seems to make so much sense then — so why doesn't that happen more often? And are there other solutions?
Making sense of the online Wild West
The Purina Institute survey showed that 75% of pet owners seem to understand the importance of nutrition to their pets' health and well-being. In the absence of adequate nutrition advice from their veterinarians or other sources — other surveys have found family and friends to be a common trusted resource — many have turned to the internet, including social media and pet food rating sites, such as Dog Food Advisor.
That site, which was founded and operated by one person, was acquired in January 2023 by Wag, which recently announced the launch of Cat Food Advisor. Wag provides ratings and access for many aspects of pet care (dog walking, pet sitting, pet insurance, etc.); and while it offers a vet chat service and a veterinary pharmacy (Furmacy), its staff's expertise and experience seem to lie mainly in tech, investing and similar fields.
Of course, Wag is just one example of hundreds of pet care-related websites with varying ranges of expertise, opinion and misinformation, and that doesn't even touch on what pet owners may find on social media. It's still a bit of the Wild West, which can lead to a pet owner entering a veterinary exam room in a rather bewildered and overwhelmed state. No wonder some veterinarians may not know how to approach that situation.
No clear individual communicator
Larger pet food companies like Purina, through its Institute — which also offers an online toolkit of resources for veterinarians called CentreSquare — and Hill's Pet Nutrition, which offers Hill's Veterinary Academy, have the resources to support veterinarians in offering nutrition advice. Yet most pet food companies don't have that level of resources, which can lead to a disconnect.
"I think the reality, looking at it as a veterinarian and someone who works in the pet food manufacturing business, is that every single individual — whether it's an expert or an influencer or a vet — they all seem to have their own set of information and misinformation," said Dr. Danielle Bernal, BVSc, global vet nutrition director for Wellness Pet Company, quoted in an article by my colleague, Petfood Industry Magazine editor Lindsay Beaton. "When you talk to pet parents, they're like, 'I think I'm doing the right thing but I'm not sure if I'm doing the right thing, because this one's saying I should do this and that one's saying I should do that.'
"I feel like we haven't got any clear individual [communicator]," Bernal continued. "The veterinarian, obviously, is one of the best because they understand the pet's health and nutritional requirements, but they haven't got their arms fully wrapped around it. And I think then they're leaning more on manufacturers who are the ones supporting them from a vet channel positioning, but without having that holistic step back and really understanding the whole category to then advise these pet parents outside of the manufacturers' claims. Our gold star influencer doesn't always have all the facts, so that makes it so hard to advise and help that pet parent out."
Pet food labels just make it worse
Many veterinarians do have the scientific background and knowledge to read and understand pet food labels and ingredient lists, which often confound pet owners, but do they have the time to explain ingredients and, more importantly, nutrients to the necessary level for owners to make pet food choices?
Pet food nutrition experts often point to the focus on ingredients, rather than necessary nutrients, as a key source of all the misunderstanding and misinformation. "In pet food marketing, it is much easier to communicate ingredient stories than nutrition and health," wrote George Collings, Ph.D., president and general manager of Nutrition Solutions and new Petfood Industry "Ingredient Issues" columnist. This has led to demonization of certain ingredients, he added, because it's also easier to talk about what's not in a pet food and why versus what is and why.
Limited space on pet food packages is another factor. "Nutritional claims on packaging are difficult to convey and are likely shown in short statements or described in paragraph format on the back of the package," Collings wrote in another column. "Packaging can also have space limitations (e.g., cans) to describe nutrition and health claims, which further limits communication to pet owners. Therefore, we have experienced changes in pet food claims to be primarily about ingredients, marketing terms or percentages of nutritional content (more is perceived as better) and less on nutritional claims."
Hope for some solutions
A new U.S. pet food label format has been in the works for years now and may finally make it to the market within another year or two; at the upcoming Association of American Feed Control Officials (AAFCO) annual meeting in August 2023, the full AAFCO membership is expected to vote on changes approved by a committee earlier in the year.
"The next big steps will include the demanding task of state-by-state approval of the AAFCO-sanctioned changes, industry adoption of the new label requirements, and retailer and consumer education about the revised labels," wrote Louise Calderwood, directory of regulatory affairs for the American Feed Industry Association, adding that we might see pet foods with the new labels by end of 2024.
The lengthy process to develop the new label format included consumer focus groups, so let's hope it helps aid pet owner understanding when it finally hits the market. Meanwhile, and as part of the education process Calderwood mentioned, it seems veterinarians still serve as the nexus, given their standing with their pet owner clients.
And not everyone believes there is a disconnect between veterinarians and the pet food industry. "The pet food industry is populated by veterinarians," said Megan Sprinkle, DVM, manager – special services for BSM Partners, in Beaton's article. "In many regards, the suggested split between the pet food industry and veterinarians, whether academic or clinician, is not accurate. Everyone in the entire pet care industry has a shared interest. Since no one person has a complete understanding of what is best for pets in total, let alone at an individual level, it takes everyone in pet care working together to share knowledge about cutting-edge advances and best practices."
That collaboration includes the tools provided to veterinarians by the larger pet food companies. So let's also hope they help vets give meaningful nutrition advice, in turn helping pet owners, the industry in general and, most of all, pets so they can live their healthiest lives.