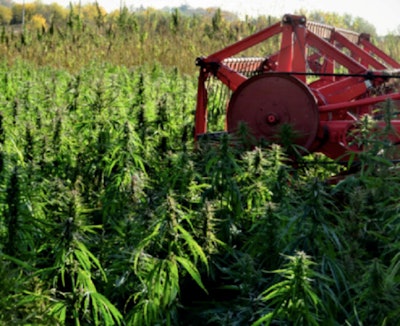 Courtesy of Kombinat Konopny
Several months after collecting about PLN 4.5 million (US$1.1 million) through crowdfunding, Polish hemp company Kombinat Konopny recently unveiled plans to launch production of pet treats and related products for cats and dogs with the use of cannabidiol (CBD) oil. Its first products for pets are to be rolled out in the coming months.
Maciej Kowalski, the company's founder and majority shareholder, told Petfoodindustry.com that Kombinat Konopny will use its experience in manufacturing CBD oil and other hemp-based products to introduce new pet products to the market.
Three pet products at launch
"We plan to launch our new products for animals this summer," Kowalski said. "In the beginning, we will release three products: a CBD oil based on fish oil for pets, in particular cats; hemp-based treats with CBD for dogs; and hemp-based pellets with CBD for horses. These products will be sold through our online store, but they will also be available at brick-and-mortar shops."
Kowalski said the company was very interested in establishing cooperation with pet shops to market its new products, and that "each of these products will be one of the most affordable sources of CBD for animals."
Products containing CBD oil can be provided to pets that struggle with anxiety, for instance in relation to veterinary visits, but also various medical conditions, according to the company's founder.
"For now, we will focus our efforts on developing our own brand in the Polish market," Kowalski said, adding that Kombinat Konopny is also selling some of its products abroad.
Record-breaking crowdfunding
The forthcoming product launches will be made possible by Kombinat Konopny's crowdfunding effort that took place in December 2021. Breaking the country's previous crowdfunding record set by local soccer club Wisła Kraków, Kombinat Konopny amassed the necessary funds from a group of about 736 investors over a period of seven minutes. As part of its further expansion plans, the company also aims to launch its initial public offering (IPO) on the Warsaw Stock Exchange.
Established in January 2019 and based in Gronowo Górne, in Poland's northern part, Kombinat Konopny operates close to 400,000 square meters (478,400 square yards) of hemp plantations.