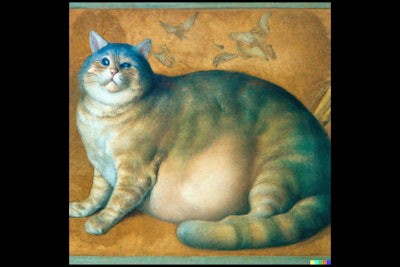 created using DALL-E
More than one-quarter of cat owners (28%) believed their cats' body condition was normal, although their veterinary professional classified those same pets as overweight to obese, in the latest Association for the Prevention of Pet Obesity survey. Seven percent of those cats were classified as obese, while their owners considered them normal.
"The slight increase in pet cats classified as overweight suggests more precise clinical body condition score assessments (BCS), particularly in cats exceeding ideal weight or body condition by one to two pounds," the APOP report authors wrote.
The percentage of overweight cats increased slightly over previous surveys. In 2022, veterinary professionals classified 61% of evaluated cats as overweight or obese. In the 2018 and 2017 surveys, 60% of cats fell into the overweight or obese range. The percentage of overweight cats increased to 28% from 26% in 2018 and 27% in 2017. The cat obesity rate remained at 33% in 2022, the same as in 2017 and 2018.
The APOP survey involved both veterinarians and pet owners. In 2022, 1,152 dogs and cats were evaluated. There were 880 dogs and 272 cats. Pet owners completed 403 surveys about their dog or cat's weight, nutrition and pet food.
"Accurately assessing feline BCS can be difficult, especially in cats with prominent primordial pouches (belly flaps) or long hair," the APOP report authors wrote.
Health problems in cats with obesity
"Obesity is a physiological disorder affecting numerous body systems," APOP report authors wrote. "Pet obesity often causes secondary, preventable diseases, including diabetes, osteoarthritis, and many forms of cancer. Professionals and the pet care industry need to educate the pet-owning public better that pet obesity is a disease with significant harmful impacts on both quality of life and life expectancy."
Health problems affecting overweight and obese cats include bladder or urinary tract disease, chronic kidney disease, diabetes, asthma, liver disease, arthritis, high blood pressure, heart failure, gall bladder disorder and immobility of the spine.