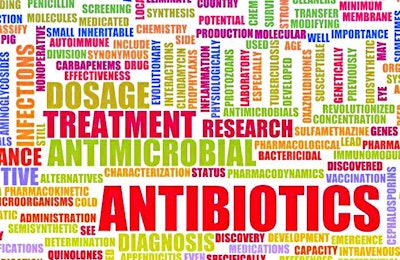 kentoh | Bigstock.com
Approximately 90 antibiotic drugs for use in production animals will transition from over-the-counter to prescription-only status this month as the U.S Food and Drug Administration (FDA) wraps up a multi-year effort to bring drugs deemed medically important under veterinary oversight.
Previous actions, including the FDA's five-year action plan on antimicrobial stewardship, succeeded in bringing 96% of medically important antibiotics under veterinary oversight by 2021. In June of that year, the FDA entered into a voluntary agreement with drugmakers to transition the remaining 4% of drugs, most of which are available as injectable medications, to prescription only status by June 11, 2023.
The affected drugs are approved for use in food-producing and companion animals, including cattle, swine, chickens, turkeys, horses, sheep, goats, cats and dogs, according to the FDA, which has published a list of affected drugs. Drugs will not be pulled from the shelves, but new drugs will be labeled as prescription-only while those that have already shipped will continue to be sold over the counter until supplies run out.
"Antibiotics will still be available for animal producers," Dr. Rachel Cumberbatch, vice president of regulatory and international affairs for the Animal Health Institute, said. "What this policy does is ensure that all medically important antibiotics are prescribed by a veterinarian."
Depending on local regulations, veterinarians generally do not need to inspect every individual animal in order to issue a prescription, according to the FDA. Veterinarians can issue prescriptions to producers with whom they have an established relationship. This not only ensures antibiotics are used responsibly, Cumberbatch said, but also allows veterinarians to provide more comprehensive care including preventative measures through nutrition and biosecurity.
The FDA also notes that working with a veterinarian typically reduces the need for extended and repeated applications of antibiotics, which can reduce costs for producers.
Cumberbatch also stressed the importance of other tools for promoting animal health, including vaccinations.
"New innovation, spurred by research, is important to bring new tools to market to prevent, control and treat infection," she said.
This month's list is expected to be the final round of antibiotics to be transitioned from over-the-counter to prescription-only status. Phase 2 of the FDA's antibiotics action plan calls for the agency to focus on defining guidelines for the duration of antibiotic use, collecting data on antimicrobial use in food-producing animals, and monitoring the spread of antibiotic-resistant bacteria.