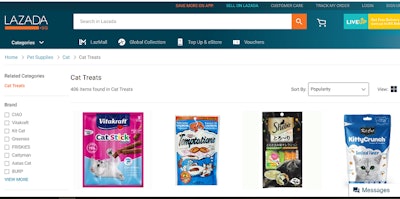 The global pet care market reached U.S.$125 billion in 2018, according to Jared Koerten, head of pet care for Euromonitor International, and 73 percent of that total, about U.S.$91.1 billion, was global pet food sales. Those figures represent a 6 percent compound annual growth rate (CAGR) since 2013 and 31% overall growth during the same period.
"We can't take this growth for granted," Koerten said, adding it was quite strong compared to other consumer goods categories, including human packaged foods (23 percent growth), fresh food for humans (16 percent) and home care (23 percent). This ongoing robust performance has made the industry a target for investors, including private equity, as well for merger and acquisition activity, he said.
Koerten was the lead speaker for the American Feed Industry Association's 12th Annual Pet Food Conference, held February 12 in conjunction with the International Production and Processing Expo in Atlanta, Georgia, USA.
Premiumization, dog ownership affect dog food sales
While dog food is by far the biggest segment of the global pet food market, and its value sales growth from 2013-2018 matched that for the overall pet care industry (6 percent CAGR), its volume sales increased only a little more than 1.5 percent CAGR during that timeframe. Cat food is a somewhat different story, Koerten said: Volume growth globally measured at more than 2 percent CAGR from 2013-2018, while value sales also increased, at 5 percent CAGR.
The difference can be attributed to changes in global dog and cat populations, Koerten explained. Cat ownership globally has risen nearly 6 percent CAGR since 2013, especially in Asia-Pacific countries like China and South Korea, where CAGR came closer to 30 percent from 2013-2018. On the other hand, dog ownership is relatively flat globally, except for the small breed dog population, which has increased 4.6 percent CAGR since 2013.
The increases in cat and small dog populations have happened because of urbanization, people in urban areas having busier lifestyles and the rising number of single and dual-income, no-kids (DINK) households worldwide, Koerten said. These factors are driving demand for convenience, time savings and less effort on the part of pet owners.
Treat sales on the rise for dogs and cats
Dry dog food is the dominant pet food segment worldwide in terms of formats, recording value sales of nearly U.S.$35 billion in 2018, according to Euromonitor's data. Though the segment has experienced healthy growth since 2013 of about 5 percent CAGR, growth was stronger for dog treats (almost 6 percent CAGR), dry cat food (5.5 percent) and, especially, cat treats, the highest growth segment at 9 percent CAGR.
Global cat treat sales are relatively low, only about U.S.$2 billion in 2018, but their growth is even more robust in some regions such as Asia-Pacific, which saw a rise of 23 percent CAGR from 2013-2018. In that region particularly, the cat treat segment includes newer formats, such as seafood "sticks" and creamy purees, Koerten said.
With wet pet food and its typically higher prices, values sales growth has outpaced that of volume sales, with increases of 4 to 5 percent CAGR for both dog and cat food. This segment is also increasing its share in markets like Brazil, where dry food has traditionally dominated. Koerten commented that larger companies like Mars and Purina are building new plants there for these formats and launching combo packs combining dry and wet products to introduce the concept of wet food to pet owners in Brazil.
Where pet food is selling around the world
"For dog food, North America is still the giant but Asia-Pacific is the next frontier," Koerten said. Euromonitor projects absolute sales of dog food in Asia Pacific will increase nearly U.S.$4 billion through 2023, compared to U.S.$7 billion for the entire rest of the world. Cat food sales, currently more evenly split among North America, Western Europe and the remainder of the world, are projected to also show strong growth in Latin America through 2023, but not quite as strong as Asia at U.S.$2 billion, compared to about U.S.$3 billion for the rest of the world outside those two regions.
In terms of retail channels, e-commerce has enjoyed the highest growth by a large margin, at more than 25 percent CAGR from 2013-2018, compared to less than 5 percent CAGR for each of the other channels listed by Koerten (warehouse clubs, variety stores, chemists/pharmacies, pet superstores and pet shops). "The shift to online is becoming a tidal wave," he said, pointing out e-commerce platforms such as Amazon, Chewy.com in North America, ZooPlus in Europe and Lazada in Southeast Asia (Indonesia, Malaysia, Philippines, Singapore, Thailand and Vietnam).
Accordingly, online sales of dog and cat food alone reached nearly U.S.$9 billion in 2018 and now have a 10 percent share of global sales.