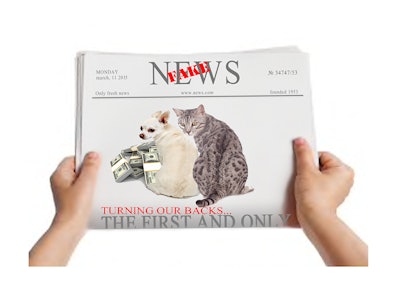 In February 2020, several media sites in Mexico published information on pet food based on an outdated analysis, misinterpretation or false information.
The analysis the media used was one conducted in 2016 by Profeco, the Mexican Federal Agency for Consumer Protection. Profeco performs a similar analysis every five years, so the one from 2016 is not up to date.
The local media misinterpreted the results of the study and drew their own conclusions, spreading fake news – first, by implying Profeco's analysis was up to date and, secondly, by deliberately making up conclusions that are not contained in the public document.
Other sites and blogs went even further by assessing pet food brands with no technical criteria. For example, one site simply argues that Pedigree is a risky product for pets. Quoting Profeco, the online news site for Televisa, the biggest broadcasting company in Latin America, reported that Pedigree stands out as the "worst quality pet food brand" in the market.
Misleading pet food brand assessments
In 2019, Petngo, a famous local e-commerce site, published pet food brand assessments on its blog, supposedly based on some standards of the site DogFoodAdvisor. Yet, that North American site does not feature any evaluation of Mexican pet food brands.
According to the Petngo blog, the lowest-qualified pet food brands are, again, Pedigree, plus they included Purina Dog Chow. The criteria they use for their evaluations are not relevant to assess product quality, as they are considering solely the amount of protein and price as the product's chief variables and features.
Fake news spreads rapidly
Fake news or dirty war, the truth is that such news spreads rapidly, like a virus across different media sites. It is likely that many pet food owners read such news and started making their conclusions.
In pet food, brand reputation is key. Thus, such erroneous or misleading information must be dismissed, as it does not reflect the point of view of the mentioned agencies, but rather individual opinions.