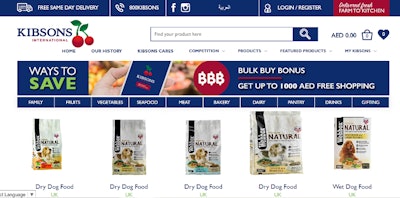 Webbox, the UK-based pet food brand, is now available at the UAE-based Kibsons International online delivery service's menu. The all-natural pet food brand is a good fit for Kibsons, which has recently pushed for greater sustainability. Called Kibsons Cares, the initiative seeks to provide healthier, safer and more eco-friendly products in convenient ways and at affordable prices.
Webbox, a Pets Choice brand, uses Ready 2 Recycle packaging from another UK-based company, Law Print & Packaging Management, in line with Kibsons anti-plastic campaign. Kibsons committed to stopping single-use plastics in 2018, and while it has shifted the majority of its own packaging to paper, some of its suppliers are still undergoing the transition. Kibsons Director of Operations, Halima Jumani, does note that the company keeps its fresh produce wrapped in plastic, for food safety concerns.
Dozens of Webbox pet products available
Thirty-eight Webbox products are available for delivery on the Kibsons website, including dry and wet dog and cat food and dog treats. Webbox is the only pet food brand currently available for delivery at Kibsons, while other Webbox items are also available at Desert Cart and Carrefour UAE. The brand is not available at Dubai Pet Food – UAE's largest online pet supplies store.
Other eco-friendly products offered alongside Webbox on the Kibsons site are bamboo fiber-made Pure Born nappies and wipes and Delphi Eco non-toxic cleaning products.
Kibsons opens new head office, expands online delivery
Kibsons, established in 1982 as a food and vegetable retailer, has expanded to encompass all grocery needs at the importer, wholesaler and distributor levels. In November 2019, the company unveiled its new 130,000-square-foot head office, which brings all aspects of warehousing, fulfillment, cold storage and meat processing under one roof.
The company now has the capacity to expand its online delivery market from 2,500 deliveries per day to 10,000 deliveries per day. Kibsons is also seeking to increase its selection of product categories, which includes items for pet food, personal care, home care, baby care and the pantry.