Production of dry pet food globally grew 8% in 2020, driven at least in part by the COVID-19 effect on pet ownership and stocking of pet food during lockdowns. That's according to data from Alltech's 10th Annual Global Feed Survey, released on January 26, 2021, comprising 2020 data.
Overall, global feed production for all species of animals increased 1%, reaching 1,187.7 million metric tons (MMT), Alltech said. Besides pet food, the only other growth sector was aquaculture, which increased 3%. All other feed sectors—poultry layers, broilers, pig, dairy and beef—were essentially flat, registering -1% to 1% changes from 2019. With pet food making up only 2% of the global feed total, that led to the overall growth rate of only 1%.
COVID-19's wide-ranging effects on feed industry
Alltech's most recent survey covered 142 countries and highlighted the wide-ranging impact of the pandemic. For example, the data showed that almost 1,000 feed mills globally closed in 2020; the survey covered 28,414 mills. More than half of respondents (58.5%) said "COVID-19 moderately or significantly affected ingredient suppliers," and a full 85% said the price of ingredients affected the overall feed industry. At the same time, 77.4% of countries saw moderate or significant increases in e-commerce.
The only regions showing any growth for feed production overall were Asia-Pacific (2%), Latin America (4%) and North America (1%). Accordingly, several of the top 10 countries for feed reside in those regions, including China, the U.S., Brazil, India, Mexico, Japan and Argentina. Of those countries, only China, Brazil, Mexico and Argentina registered healthy growth, at 5%, 10%, 4% and 7%, respectively. Others were flat or even declined (India, by -5%), with the U.S. growing 1%.
Dry pet food's strong growth
Global dry pet food production reached 29.33 MMT, up from 27.09 in 2019. Africa, Europe, Latin America and North America experienced the highest growth, at 7%, 14%, 6% and 7%, respectively—though actual volumes varied widely. For instance, Africa's total still hit only 0.44 MMT, while Europe at 9.36 MMT, Latin America at 6.39 MMT and North America at 9.41 MMT comprised the bulk of the dry pet food market.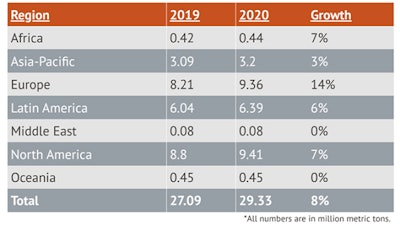 Dry pet food production reached 29.33 million metric tons in 2020, according to Alltech's 10th Annual Global Feed Survey. l Courtesy of Alltech
Within each of the high-growth regions, specific countries drove the pet food increases, Alltech said. That included South Africa, which accounted for almost all of the African continent's dry pet food volume (.432 MMT of .044); the U.K., France, Spain, Turkey and Belgium, comprising a total of 4.91 MMT, or about 52% of Europe's total; and the U.S., which reached 8.709 MMT, nearly 93% of North America's total.