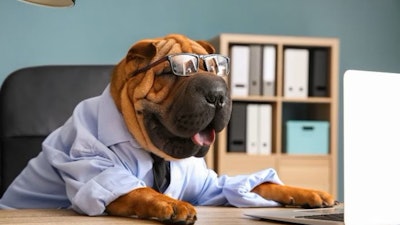 (Studio-pixeltext | BigStock.com)
Central Garden and Pet acquired TDBBS from Bregal Partners. TDBBS is a provider of premium natural dog chews and treats. The addition of TDBBS will expand Central's portfolio with bully and collagen sticks, bones and jerky, and further strengthen Central's e-commerce and digital capabilities. TDBBS is based in Richmond, Virginia, USA.
"Our Central to Home strategy is focused on building further scale in our two industries and growing leading brands consumers love," Beth Springer, interim CEO of Central, said in a press release. "Adding TDBBS's established brands and digital capabilities solidifies our position in the large and growing dog treats and chews category and will strengthen our footprint with key customers."
Since 2008, TDBBS has developed and sold minimally processed dog treats and chews. Each of their three brands (Best Bully Sticks, Barkworthies and Paw Love) offers a variety of natural, grain and gluten-free products that are low in fat and high in protein and made from limited ingredients. TDBBS products include bully sticks, antlers, jerkies, and yak cheese chews.
TDBBS was founded as a digitally native brand. TDBBS sells its products online direct-to-consumer and through third-party platforms, as well as through pet specialty and select grocery, mass and club retailers.
Central was represented by Orrick as legal advisor. TDBBS was represented by Lazard as exclusive financial advisor and Dechert as legal advisor. The transaction closed on November 3, 2023. Central will provide additional details on the acquisition during its fourth quarter and fiscal year-end earnings call later in November.
About Central Garden & Pet
Central Garden & Pet is a major U.S. supplier of food and other products for dogs and cats, as well as small mammals and birds, according to Petfood Industry's Top Companies database. Since 2014, dog and cat products have grown from less than 10% of the company's net sales to nearly 20%. The company's customers include Costco Wholesale, PetSmart, PETCO and Wal-Mart. It services about 6,000 customers, the majority of which are independent, specialty stores with fewer than 10 locations. In addition to its pet segment, Central develops, markets and manufactures branded products and distributes third-party products in the pet and lawn and garden industries in the U.S. Central Garden and Pet's annual revenue for pet products in 2022 was US$542,900,000. The company has 12 facilities in total, of which five are production plants. Central Garden and Pet employs 7,000 people.
Central's portfolio includes more than 65 brands including Amdro, Aqueon, Cadet, Farnam, Ferry-Morse, Four Paws, Kaytee, K&H, Nylabone and Pennington. Central is based in Walnut Creek, California.