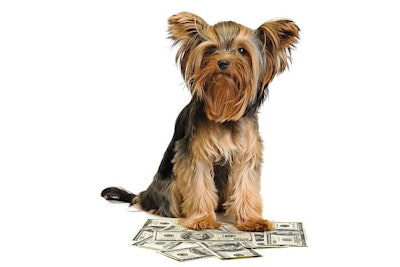 Scorpp l BigStock.com
Pet food inflation in the U.S. settled at 7.6% year over year (YOY) for September 2023. While pet food prices for the month ticked up slightly (0.3%) from August 2023, the YOY figure keeps declining, down by more than a percentage point from August's 8.7%. Can we expect these welcome decreases to continue?
Well, since late spring 2023, the data have shown this continuing YOY decline; we are at least headed in the right direction.
Pet food producer prices stable
One reason pet food retail prices have been coming down is because pet food producer prices have, too. A word of caution: For September 2023, the YOY pet food producer price index (PPI) was even with August's YOY figure, 8.1%. John Gibbons of PetBusinessProfessor.com, who compiles and analyzes "petflation" data from the U.S. Bureau of Labor Statistics (BLS), consistently warns that the PPI is a preliminary figure; BLS may take up to four months to release final data. Yet the August number has been updated.
If the PPI is stabilizing, that's not necessarily a good thing, because it may be stuck at an increased level. But the September PPI numbers definitely seem preliminary; all the cat food segments' YOY prices are exactly the same as August's. The dog food segments are up a little YOY over August's, but we probably need to wait for the final numbers.
Until then, the positive news includes that prices for U.S. pet care overall continue to decline, too, coming in at 5.7% YOY for September 2023, down from 6.6% YOY in August. While that's still outpacing the overall U.S. CPI of 3.7% YOY (which so far is flat from August to September), a decrease is always good. The main segments driving the 5.7% inflation figure, besides pet food, include pet services and veterinary services; both are also down YOY from August to September.
Falling human food prices
Another inflation measure worth watching is food at home, essentially the same as groceries, because this is one of the most significant categories affecting consumers (nearly everyone has to buy food) and also because of its close link to pet food. The YOY number for September 2023 offers especially good news: It's 2.4%, down from 3% YOY in August and also on a steady decline, it seems.
That the category is lower than the overall CPI for at least the second month in a row perhaps promises a bright outlook for the overall U.S. economy and consumers' pocketbooks. If pet food prices continue to fall, too, pet owners may finally soon feel some relief.
Editor's note: This has been updated to reflect a correction: CPI and pet food inflation numbers are final upon release; PPI numbers can take up to four months to be finalized.