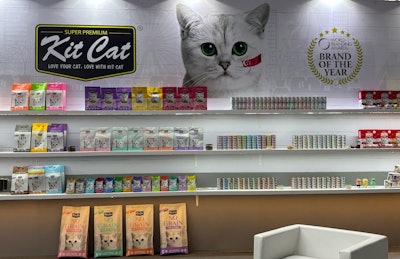 Debbie Phillips-Donaldson
"The time of the cat." That's how Matthias Koch, founder and managing director of Anibene and opening speaker for Petfood Forum Asia 2023 in Bangkok on October 25, described cat populations in Asia as he presented trends of the regional market.
In many countries in Asia, including China, cats began to outnumber dogs in 2021, said Koch, whose company helps European and other companies distribute pet products throughout Asia. Driven by the pandemic, then rising urbanization and subsequent moves of more people into smaller homes, cats began to gain favor as pets, while populations of medium to large dogs have remained flat or started to decline in some Asian countries.
A greater number of cats owned leads to higher cat food sales, including growth in premium cat food, depending on the market. Pet food premiumization has started to hit a ceiling in Asia due to inflation, Koch said, and economy and mid-priced cat and dog foods definitely have their place in some countries, especially ones with smaller pet food markets.
Walking the aisles of Pet Fair South East Asia, the pet trade show that Petfood Forum Asia co-located with, I saw evidence of cats' growing influence in terms of the number of stands showcasing cat food and other products. Indeed, there were several companies focused specifically on cats, such as Kit Cat International from Singapore.
Cats having their moment worldwide
Asia is not the only place where cats are on the rise. In Europe, where more people live in smaller dwellings, cats outnumber dogs 127 million to 104 million, according to FEDIAF, the umbrella organization of European pet food associations. In the U.S., households with kittens are on the rise, while those with puppies are declining, according to David Sprinkle, director of pet market research for Packaged Facts.
Citing data from MRI-Simmons, Sprinkle said the number of U.S. households with puppies under 1 year old decreased from 5.6 million in 2014 to 4.4 million in 2023. At the same time, the number of households with kittens increased from 3.1 million to 3.9 million. "As a result of these converse trends, the ratio of kitten households to puppy households catapulted from 54% to 89% over the last 10 years," he wrote. "From another data perspective, 12% of current cat parents have a kitten, while under 9% of dog parents have a puppy."
As in Asia, the growth for cats is not just in numbers owned. Though U.S. sales for dog food and dog treats are higher than the respective categories for cats — most dogs eat more than cats do — the cat categories are showing higher growth rates: nearly 25% for cat food versus about 20% for dog food in the 52 weeks ending June 17, 2023, and a whopping 40+% for cat treats, at least double dog treats' 20% growth. (The data, from NielsenIQ, includes both online and in-store sales in the U.S.)
Even in Latin America, where most countries are more dog-oriented, cat food sales have increased at a compound annual growth rate of 7% through 2023, compared to 5% for dog food, according to Euromonitor International. In Mexico, the difference is even more pronounced; Euromonitor projects cat food sales to grow 11% versus 1% for dog food over the next five years. This is also due to increasing urbanization and the move toward cats and smaller dogs by pet owners.