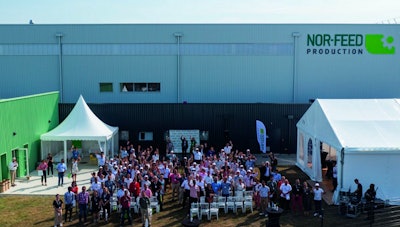 Courtesy of Nor-Feed
In response to rising demand, French animal nutrition and health specialist Nor-Feed has opened a new production facility in Chemillé, in western France. The expansion will allow the ingredient supplier to significantly increase its deliveries to pet food companies and expand exports, which currently dominate Nor-Feed's sales structure.
Olga Noel, a manager at Nor-Feed, said the company's main products for the pet food industry include Nor-Balm, an antioxidant with polyphenols that helps prevent oxidative stress; Norponin Opti, a standardized saponin solution designed to control fecal odors and gases; Nor-Spice AB, a premix comprising a citrus extract that contributes to the digestive tract function and animal health; and Durelax, a natural additive that prevents stress and supports animal welfare.
"All of our products are developed and produced in France in our facilities. We are a science-based company and have a short product range as we are characterizing and standardizing our solutions while offering documented claims that our customers can use on their packaging," Noel said. "Nor-Feed is an agile company, and we are able to develop 100% natural solutions to suit pet food companies' needs."
Certified for organic pet food production
Noel said Nor-Feed "exclusively manufactures plant extracts and nothing else. Our solutions are certified for organic pet food production according to European regulations."
France's Anjou region, where the factory is located, is the country's aromatic and medicinal plant hub, she added. Among other organizations, the region hosts ITEIPMAI, a leading French research institute that specializes in perfume, medicinal and aromatic plants.
Fitted with a surface of some 2,500 sq. meters (26,900 sq. ft) and opened last month, the new factory will enable Nor-Feed to increase its manufacturing capacities fourfold, allowing the company to meet the growing market demand for botanical products, according to Noel. The expansion is also in line with the producer's strategy of raising its export sales.
"The export market represents 75% of our sales now, while the French market sales continue to show a double-digit growth," Noel said. "We sell our solutions to over 50 countries."