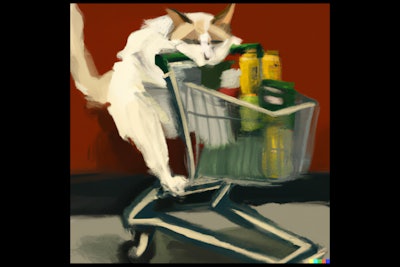 created using DALL-E 2
Internet-based grocery delivery company Instacart harnessed their sales data to observe what dog and cat treats were most popular in the United States. Instacart also documented which pet foods had the highest sales in each state, which served as a proxy for the popularity of those pets around the U.S. Instacart partners with more than 1,100 national, regional and local retailers to deliver from more than 80,000 stores across more than 14,000 cities in North America.
Top five dog treat brands sold on Instacart:
1. Milk-Bone
2. Heart to Tail
3. Purina Beggin'
4. Good 'n' Fun
5. Pup-Peroni
Top five cat treat brands sold on Instacart:
1. TEMPTATIONS
2. Purina Friskies
3. Delectables
4. Heart to Tail
5. Luvsome
States with most dog, cat or other pet food sales
Dog food was the most frequently sold pet food in the majority of states. In 36 states, including the entire South, and most of the West Coast, Midwest, and some of the East Coast, dog food topped sales. Cat food was the second most popular pet food, leading sales in fourteen states plus Washington, D.C. Cat food sold most in much of the entire Northeast, including New York, New Jersey, Connecticut, Vermont, Maine and others in the region, as well as Minnesota, Oregon and Washington.
Following dog and cat foods, hay for small animals was the most common type of pet food. Hay followed dog and cat food sales in 26 states. Bird food sold third to dog and cat food in 23 states. Nevada was the only state where fish food followed dog and cat food. Idaho was the sole state where rabbit food followed dog and cat food.
About Instacart grocery delivery service
Created using Chat GPT:
Instacart is an online grocery delivery and pick-up service that allows customers to order groceries and other household items from their favorite local stores. It was founded in 2012 by Apoorva Mehta, Max Mullen, and Brandon Leonardo and is based in San Francisco, California.
Instacart functions as a middleman between customers and local grocery stores. It partners with a variety of retailers, including well-known chains such as Whole Foods, Costco, Safeway, and CVS, among others. Customers can use the Instacart website or mobile app to browse through available products, create a shopping list, and place an order.
When an order is received, Instacart connects with a personal shopper in the customer's area who will visit the designated store, pick up the items, and deliver them to the customer's specified location. The personal shoppers are independent contractors who work flexible hours and use their own mode of transportation.
Instacart offers several delivery options to cater to customers' needs. They provide same-day delivery, allowing customers to receive their groceries within a few hours, and they also offer scheduled deliveries, where customers can choose a specific time slot for their groceries to be delivered. In some areas, Instacart also offers in-store pickup, allowing customers to collect their orders from the store without delivery.
Customers can communicate with their shoppers through the Instacart app, enabling them to make adjustments to their orders, request replacements or refunds, and provide additional instructions.
In addition to groceries, Instacart has expanded its services to include other essential items such as household goods, personal care products, pet supplies, and alcohol, depending on local regulations and store availability.
To use Instacart, customers typically pay a delivery fee based on the size of their order, and they also have the option to tip their shopper. Instacart also offers a subscription service called Instacart Express, which provides unlimited free delivery for a monthly or annual fee.
Instacart has experienced significant growth and popularity, especially during the COVID-19 pandemic when many people turned to online grocery shopping to avoid crowded stores. The company has expanded its operations to thousands of cities across the United States and Canada, partnering with numerous retailers to provide a wide selection of products to its customers.