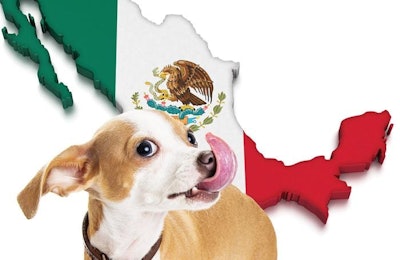 Susan Schmitz.Fotolia.com, Corund.Fotolia.com
In late August 2023, the Annual Wholesale Congress took place in Puebla, Mexico. While this event, organized by ANAM (National Association of Wholesale Grocers A.C.), happens every year, 2023 saw a marked increase in participants from the Mexican pet food industry.
The wholesale channel has gained immense predominance in the fast-moving consumer goods arena, and in recent years, it has become the gateway for numerous Mexican pet food companies to enter the market. As previously reported, investments in pet food production plants by various local companies have led to a proliferation of brands and products. As a result, the wholesale channel has become the preferred entry point for these brands.
The supermarket channel, while still predominant for pet food in Mexico, faces harsh competition due to limited sales space. For example, while a hypermarket may offer around 10-15 brands of dry pet food, a wholesale warehouse may feature up to 50 brands competing side by side.
Sizable wholesale channel in Mexico?
The entire wholesale channel in Mexico moves less than half a million tons of pet food annually. While it might not be the largest channel in terms of volume for pet food, it offers the greatest openness and versatility for accommodating numerous brands. For this reason, many brands want to be a part of it.
Furthermore, negotiations with the wholesale channel are likely more direct and straightforward compared to the supermarket channel, which operates under different commercial conditions. The wholesale channel's agility and accessibility make it a preferred choice for both established brands and newcomers looking to make inroads in the competitive pet food market.
To that end, ANAM 2023 provided a platform for these brands to showcase their products, network with potential partners and explore opportunities within the thriving wholesale channel. The event saw the participation of industry leaders like Purina, Mars and ADM, each with impressive booths showcasing their products. It also provided a platform for emerging companies and brands, such as Nutroline, Flagasa, Nutricon, Vimifos, Sesajal, Maka, the Respect Company and MNA. In addition to these newcomers, large companies in the Mexican market like Nupec, Los Belenes, El Nogal and Albapesa were also present.
Rising competition on the horizon
As the pet food industry in Mexico continues to evolve, the wholesale channel's importance is expected to grow further. The 2023 ANAM congress demonstrated that this channel is not only vital but also a dynamic space where innovation and competition drive the industry forward. With the presence of industry giants, emerging brands and a diverse array of products, ANAM 2023 was a testament to the wholesale channel's central role in the Mexican pet food market.