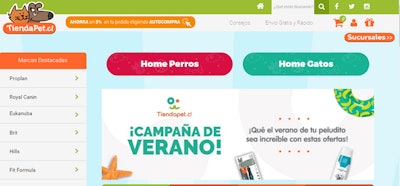 The Peruvian company Grupo Mulder recently announced the acquisition of the Chilean pet food online retailer TiendaPet.
According to sources, TiendaPet is the leading online pet retailer in Chile, distributing more than 3,000 pet products in the country. The company was founded in 2007, when large dog breeds were quite popular. Nowadays, the market has changed notably, featuring a bigger demand for pet food for small breeds.
Nearly 80% of TiendaPet sales are comprised of pet food products, while the remaining sales comprise pet accessories. One of the key competitive advantages of the company is their rapid delivery system of less than 24 hours.
Buyer has acquired other pet food retailers
The buyer, Grupo Mulder, is a local consortium that participates in several consumer and industrial activities in Peru. The group is heavily involved in the pet care arena, where it owns Super Pet, the online branch of Veterinaria y Supermercado de Mascotas, the leading retailer in the country of pet products.
It is likely that the Peruvian group will benefit from the local experience of TiendaPet in Chile and that the online retail environment of the region will strengthen as the group is consolidating an international operation.
It is worth mentioning that Grupo Mulder recently acquired other pet food retailers, Kiwoko and Tiendanimal in Spain. This repositions the company in the international pet food arena. It is possible that Mulder is envisioning an expansion and further growth in online transactions and is raising the bar for other international pet food retailers like Petco or PetSmart.
Fourth largest pet food market in region
The Chilean pet food market is the fourth biggest consumer market in Latin America, after Brazil, Mexico and Argentina. However, according to research, Chile is first by a large measure in terms of caloric penetration of commercial pet food.
Regionally, the online pet food arena is experiencing some changes, signaling the further development of e-commerce pet food transactions in Latin America.