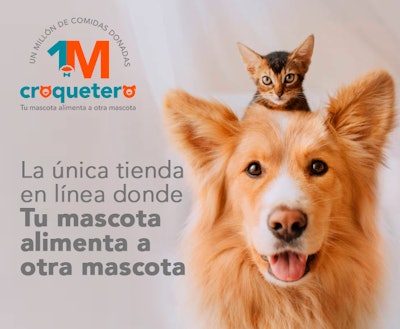 Courtesy of Croquetero.com
Croquetero is more than just another e-commerce site offering pet food online. It sells pet food via free delivery throughout Mexico, offers a fresher consumer experience and participates actively in charity.
In Mexico, the concept of social responsibility is an emerging trend that just a few companies can presume to attain. Nowadays, wearing the label of social responsibility in the pet food business can make a difference, considering that the local market has the highest number of street dogs and cats in Latin America.
Croquetero combines a cutting-edge e-commerce platform with a program of continuous donations of pet food to numerous animal shelters. The company claims to have delivered 1 million pet food donations since 2013.
Building connection to pet food customers
Regarding technology, the company differentiates itself from other online businesses by using individual consumer data to provide a more personalized experience. According to Gabriel Porteny, founder and CEO, Croquetero focuses on maximizing retention rates by encouraging an emotional liaison with customers. For example, the company knows the specific rations of every user.
Furthermore, Croquetero is the only online company in Mexico with a product refill customer-loyalty program for pet food. Consumers can program an automatic product delivery on the frequency of their selected product while benefiting from a refill discount price.
According to the company, this program has led to a 50% retention rate. And during the pandemic, Croquetero enjoyed an increase in the number of online customers, helping the company improve awareness and reduce its client acquisition cost significantly.
More shelters in Mexico seeking pet food
Yolanda Sanchez, leader of the company's pet food donation initiative, said Croquetero has donated to 162 animal shelters since 2013. Currently, Croquetero gives donations to 20 shelters, each with an average population of 86 dogs and cats. One of the challenges of the program is to increase the adoption rate, which currently stands at four pets per month.
To ensure the shelter's feasibility, Croquetero undertakes an assessment and certification process to maintain high standards and compliance.
Croquetero stands out in the crowd as it contributes to tackling one of the most penetrating problems in the Mexican market: dog and cat abandonment. To pursue this task, Croquetero is well prepared by employing data and technology to provide a better consumer experience while helping abandoned pets.