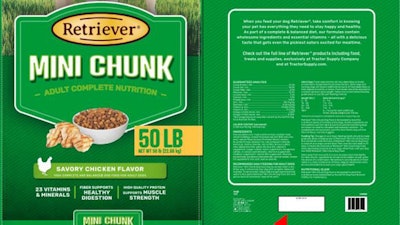 U.S. FDA
TFP Nutrition of Nacogdoches, Texas issued a voluntary recall of Retriever All Life Stages Mini Chunk Chicken Recipe Dry Dog Food due to potential Salmonella contamination, according to the U.S. Food and Drug Administration. No dog or human illness has been reported to date with respect to the recalled dog food. All recalled product has been removed from store shelves and no other Tractor Supply Company products are affected by the voluntary recall. This voluntary recall is being issued due to a single sample of Retriever All Life Stages Mini Chunk Chicken Recipe Dry Dog Food that tested positive for Salmonella in a random sample test conducted by the Office of the Texas State Chemist.
The product was manufactured on October 4, 2023 and October 5, 2023 at the Nacogdoches, Texas facility. Affected product was distributed in Arkansas, Arizona, California, Louisiana, Mississippi, New Mexico, Nevada, Oklahoma, Texas and Utah and contains "3277 TFP" or "3278 TFP" on the second line of the date code.
Risks of Salmonella infection in pets and people
Healthy people infected with Salmonella should monitor themselves for some or all of the following symptoms: nausea, vomiting, diarrhea or bloody diarrhea, abdominal cramping and fever. Rarely, Salmonella can result in more serious ailments, including arterial infections, endocarditis, arthritis, muscle pain, eye irritation, and urinary tract symptoms. Consumers exhibiting these signs after having contact with this product should contact their healthcare providers.
Dogs with Salmonella infections may be lethargic and have diarrhea or bloody diarrhea, fever, and vomiting. Some pets will have only decreased appetite, fever, and abdominal pain. Infected but otherwise healthy pets can be carriers and infect other animals or humans. If your pet has consumed the recalled product and has these symptoms, please contact your veterinarian.
Salmonella can affect animals eating the products and there is risk to humans from handling contaminated products, especially if they have not thoroughly washed their hands after having contact with the products or any surfaces exposed to these products.