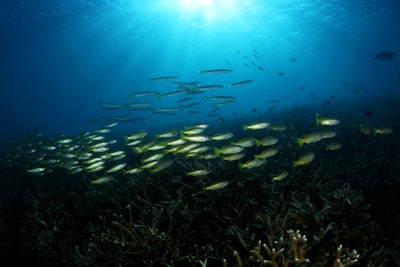 Umami Bioworks (formerly Umami Meats), the cultivated seafood producer headquartered in Singapore, has partnered with Cult Food Science Corp. from Toronto, Canada to develop cat treats made from cell-cultured fish meats.
To be called Marina Cat, it represents a new category of cultivated pet food product that promises to be healthier for cats and to help preserve marine resources in the oceans. As a hybrid cell-cultivated cat food, Marina Cat will provide an alternative to raw fishery products used in cat food that have an impact on the oceans, with all the animal-derived nutrition of caught or farmed fish, but none of the harmful environmental impacts of commercial fishing. Like real fish, Marina Cat will have high levels of Omega 3, 6 and 9 fatty chains to benefit the cat's cognitive functions and nervous system development, both companies said.
"My vision for the future is that we no longer have to slaughter other animals to feed our cats," said Joshua Errett, Cult's vice president of product. "This brand brings me one very great step closer to making that a reality."
Using cell-cultured fish ingredients, Marina Cat will be a blend of ocean snapper cultivated by Umami Bioworks and enriched with Cult's Bmmune protein. It promises to be a high protein, low-calorie snack with great umami flavors that cats will love. The collaborating companies expect Marina Cat to go into production very soon so that it can hit the market by next year.
Cell-cultivated fish ingredients are produced by taking a sample from a fish and then growing and scaling the cells in large bioreactors. This innovative process allows for the creation of fish-based products such as sushi, sashimi, fish balls, fillets and now, cat treats, without the need for high-impact fishing. This will be one of the world's first cell-cultivated fish pet products brought to market.
Umami is a three-year-old bio-tech startup that aims to develop an efficient and cost-effective process for producing cultivated fish using cell lines from endangered species, in serum-free media and at scale. Its CEO, Mihir Pershad, said they are committed to deliver the technology that will help commercialize cell-cultivated products in different forms or applications. Marina Cat, he said, represents a promise fulfilled.