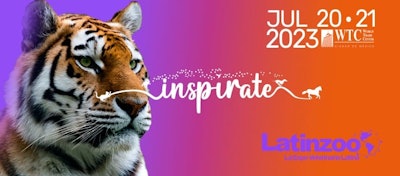 Courtesy Latinzoo
The Latinzoo 2023 event, held July 20th and 21st at the WTC in Mexico City, brought together pet food industry leaders for a comprehensive display of the latest trends and developments in the Mexican pet nutrition market. While this year saw a reduced number of booths from major pet food producers, other emerging players were present, such as Previtep, MNA, Tutti Mascotte, Pabsa and Nuprom, who showcased their achievements in both pet food production and image freshness.
Highlighting standard to premium brands, production capabilities
Previtep displayed a wide array of premium pet food products, such as its flagship VitaCan line, and showed videos of its state-of-the-art pet food production facility in Jalisco and its modernized systems. The company's commitment to innovation and quality was evident.
In addition, MNA, a multi-product feed company from the northern state of Monterrey, exhibited its pet food product catalog featuring novel brands like Perrazo and Ringo. Its booth served as evidence of the company's dedication to delivering quality products to pet owners.
Tutti Mascotte, a manufacturer in central Mexico, showed its premium offerings, Iron Dog and Natural Bite, emphasizing its commitment to providing pet owners with superior nutrition options.
Pabsa, a manufacturer located in the state of Puebla, occupied two booths, showcasing its standard brand, Beriscan, alongside its premium line, Bupper. The strategy of Pabsa continued to strengthen its presence in both traditional and alternative distribution channels across the country. Pabsa is one of the companies to keep an eye on for the coming years as its production facility is also cutting-edge.
Finally, Nuprom highlighted its Biofeed and Hachi brands, representing its commitment to pet health and well-being. The company's progressive approach to nutrition garnered significant attention, positioning them as a brand of interest in the pet food industry.
Platform for emerging pet food companies
Notably, these companies demonstrated consistent efforts to grow their brand presence nationwide. Through dedication to product innovation and understanding consumers' evolving needs, they are seeking to solidify their positions in traditional distribution channels while exploring opportunities in emerging alternative markets.
Latinzoo 2023 provided a platform for emerging pet food producers to showcase their achievements and advancements. As the product lines continue to push the boundaries of pet nutrition and brand appeal, pet owners can expect a more diverse and premium selection of products that accommodate their pets' specific needs.