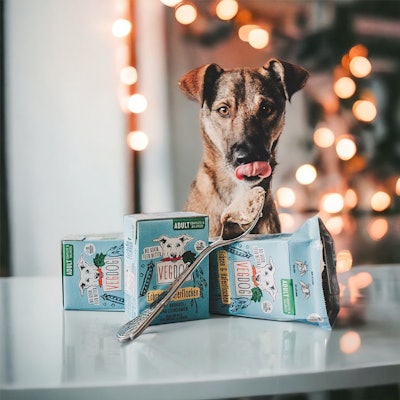 Courtesy VEGDOG
VEGDOG, a vegan dog food brand made in Germany, completed an investment round of about €3.5 million (US$3.9 million) in late 2022 and is currently investing the secured funds to broaden its product range, increase capacities and expand to new markets, according to co-founder Tessa Zaune-Figlar.
"We are investing heavily in new staff, upgrading the website and improving our logistics," she said. "We have launched a number of new products this year and are currently preparing more — for example, the launch of a new snack for joint health, VEGDOG mobilities. Further activities are planned."
Zaune-Figlar added that the vegan dog food brand offers a broad portfolio of nutritionally complete dry and wet pet food, as well as a vast range of snacks and supplements, all 100% plant-based. "In product development, we work together with our staff veterinarians and take into account high scientific standards as well as the current research situation," she said.
Growing plant-based pet food market
VEGDOG is headquartered in Munich, in the country's southern state of Bavaria. The company's product range is available for purchase online, as well as through a pan-European network of retailers.
The German manufacturer is benefiting from the positive outlook for the world's plant-based pet food market, as indicated by a report by U.S. consultancy Future Market Insights. The global market for such products is expected to expand at a robust compound annual growth rate of 9.2%. "The market is anticipated to hold a revenue of US$57.43 billion in 2023," according to the report. "The market is valued at US$26.01 billion in 2022."
Foreign expansion plans for VEGDOG
Asked about the company's leading geographical area of business, Valerie Henssen, the company's other co-founder, said VEGDOG currently operates within Europe's key German-speaking markets. "We are focusing on Germany, Austria and Switzerland. Expansion into other international markets is being prepared," Henssen explained.
With its expansion plans in mind, the German company is currently recruiting a number of new employees. The available positions cover administration, sales, data and marketing jobs, among others, according to the dog food brand's website.