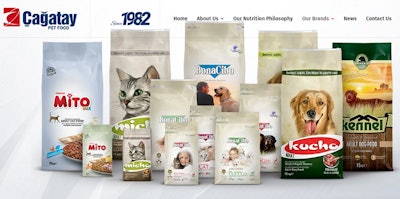 Pakistani pet food importer Pet Mania has recently signed an exclusive import deal with Turkish brand Çağatay Pet Food. Pet Mania, which has stores in Karachi and Lahore, seeks to provide high-quality pet food at a competitive price to the Pakistani market, one of the main reasons to pursue the Turkish brand. The company also has a distribution network comprising some of the largest supermarket chains in the country, including Al-Fatah, Hyperstar and Imtiaz Super Stores.
Mrs. Arbab, who founded Pet Mania in 2015, is also operates a trading company that imports her pet food, mainly from Germany, and pet accessories, mostly from Thailand and China. Her business grew out of her family's love for dogs.
"We started with two dogs and began breeding, and joined the breeding groups of Pakistan," Arbab said. "Many vaccines and medicines were not easily available in Pakistan, so we were well aware of dogs' health and nutrition challenges."
Pet food, products only available as imports
As with many developing countries, Pakistan's demand for certain items, including pet food, can only be fulfilled through imports since no high-quality local production exists. Within the past year, with the rupee depreciating against the dollar over 30% and higher import taxes, the cost of items is much greater now. The cost of high-quality imported pet food has always been high in Pakistan, with Arbab pointing out that in 2015 Royal Canin, which was the best pet food available in the market then, cost PKR 8,500 (US$54.63) for 15 kgs, which was very expensive for her to import for even her own dogs' needs.
"So in 2017, we got an LCL (less than container load) shipment from the German brand Josera Pet Food, at a cost of PKR 7,000 (US$44.99) for 15 kgs," Arbab explained. "Our breeders' network tried it out as well. The results were liked so we got a full container."
Currency depreciation affecting price of German pet food imports
Currently Pet Mania imports from Josera every two months. While it still remains the primary imported pet food brand for Pet Mania, they also import from German dog food brand Belcando. But neither company was willing to reduce their prices further under the situation of the rupee depreciation, and Pet Mania's clients were finding it difficult to afford the brands.
"So I approached Çağatay because their price was lower, while quality was still high," Arbab added. "Also Josera did not have wet pet food, which Çağatay has, so that was an advantage for my customers, since some of them demand it. If all goes well, I expect to bring in shipments from Çağatay every month."
Çağatay provides multiple brands of dog and cat food, including the superpremium brand Bonacibo, with 11 à la carte nutrition options available in 21 sizes. Their other brands include Micho Adult Cat Food, Mito Adult Cat Food, Kucho Dog Food and Kennel Adult Dog Food.