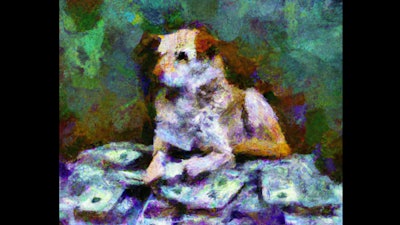 created by Tim Wall using DALL-E 2
Overall, J.M. Smucker's pet food retail net sales declined US$288 million, or 40%, in the first quarter of fiscal year 2024 in the United States. Smucker's U.S. retail pet food net sales were US$441 million in Q1 FY24 with segment profits of US$81.3 million.
"U.S. Retail Pet Foods segment profit decreased 32%, primarily reflecting the noncomparable segment profit in the prior year related to the divested pet food brands, increased marketing investments for the remaining brands, and increased distribution costs, partially offset by a favorable net impact of higher net price realization and increased costs and favorable volume/mix," Tucker Marshall, chief financial officer said in prepared remarks.
However, excluding US$367.7 million of noncomparable net sales in the prior year related to the divested pet food brands, Smucker net sales increased US$79.7 million, or 22%. Volume/mix increased net sales by 12 percentage points, primarily driven by US$50.6 million of contract manufacturing sales related to the divestiture and an increase for the Milk-Bone brand, partially offset by the Pup-Peroni brand. Higher net price realization increased net sales by 10 percentage points, primarily reflecting list price increases across the portfolio.
"In pet foods, comparable net sales increased 22% versus the prior year, including a 14% benefit from contract manufacturing sales related to the divested pet food brands, and strong growth for Meow Mix cat food and Milk-Bone dog snacks," Mark Smucker, chair of the board, president and chief executive officer said in prepared remarks.
J.M. Smucker dog food and treat sales
"In dog snacks, the Milk-Bone brand grew net sales 10%, as volume/mix and net price realization each contributed 5%," he said. "Milk-Bone continued to outpace the category, with consumer take-away up over 13%, and grew nearly 2x the category rate. The Milk-Bone brand continues to drive growth through core offerings and premium-positioned innovation. Mainstream dog snacks are driving category growth through favorable price per ounce economics and consumers' desire for value. Biscuits and 'soft and chewy' offerings have generated the largest dollar share growth in the dog snacks category over the last year. Our portfolio benefits significantly from this, as we are the #1 manufacturer in both categories. In biscuits, Milk-Bone has a 62% dollar share and grew over 2 points of share in the quarter. And in 'soft and chewy,' we are the #1 manufacturer with twice the dollar and volume share of the nearest competitor, and we grew over 2 points of dollar share in the quarter.
J.M. Smucker cat food sales
"Meow Mix brand net sales grew 13%, and demand continued to exceed our production capacity for dry cat food in the quarter. Following recent out-of-stocks due to supply constraints, we have begun to replenish retailer inventories. The brand has begun to recover share, and Meow Mix Original Choice is again #1 in dry cat food based on volume consumption. We expect continued improvement in supply catching up to demand through the second quarter.
"Our Pet segment results this quarter demonstrate the benefits of our recent pet food divestiture, as profit margins improved nearly 200 basis points over the prior year, driven by improved product mix. We anticipate margins to further improve over time after we fulfill contract manufacturing requirements and mitigate stranded overhead costs related to the recent divestiture."
Smucker sold Nutrish, 9Lives, other pet food brands
Earlier in 2023, J.M. Smucker sold several pet food and treat brands to Post Holdings, a consumer-packaged goods holding company headquartered in St. Louis, Missouri, USA. The transaction includes the Rachael Ray Nutrish, 9Lives, Kibbles 'n Bits, Nature's Recipe, and Gravy Train brands as well as the Smucker's private label pet food business.
Smucker's sale of these brands is valued at approximately US$1.2 billion, consisting of US$700 million in cash and approximately 5.39 million shares of common stock of Post Holdings, Inc.
The deal includes relevant trademarks and licenses, and manufacturing and distribution facilities in Bloomsburg, Pennsylvania, USA as well as its manufacturing facilities in Meadville, Pennsylvania and Lawrence, Kansas, USA. In addition, a group of employees will transition to Post Holdings, Inc. to support the business.