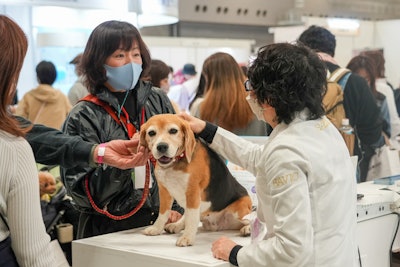 Courtesy Alma Buelva
As not all dogs and cats can be easily cajoled to an assisted brushing of their teeth after a day of eating, a team of researchers from Japan will rely on science and technology to do the job.
Osaka University has agreed to a joint research with Anicom General Insurance, Anicom Advanced Medical Research Institute and Earth Pharmaceutical Co., Ltd. to prevent periodontal disease in pets and improve their intestinal environment using an advanced technology called MA-T (Matching transformation system).
The joint research will collect data on oral bacteria in pets and study the use of MA-T to develop preventive and therapeutic methods to fight periodontal disease.
MA-T is an on-demand aqueous chlorine dioxide solution that can be safely used for various antimicrobial activities even under abundant organic compound. Effective for infection control, MA-T can inactivate viruses and sterilize various bacteria.
The effectiveness of using gel with MA-T for human oral care has already been confirmed, the group said. Now, they will study if the same can be applied to improve oral care for pets to prevent not just periodontal disease, but the onset of other diseases related to it.
By analyzing their own pet insurance claim data, Anicom said dogs with periodontal disease are 1.4 times more likely to suffer from various diseases a year after diagnosis compared to dogs with no dental issues. They also said that dogs with periodontal disease are four times more likely to have a heart disease and five times more likely to have kidney disease than dogs with no oral problems.
Similarly in cats, those with periodontal disease have a 2.7-fold increase in incidences of diseases in the following year. Cats with periodontal disease are 3.5 times more likely to develop kidney disease and a 3.2 times increased chances of developing a heart disease, Anicom said.
For the joint research, oral microbiota data of pets will be collected to identify prevention and treatment methods using MA-T. Insurance claim data from Anicom will also be used to understand the impact of oral care on other pet diseases. The research aims to extend a pet's life expectancy by protecting them from periodontal diseases.