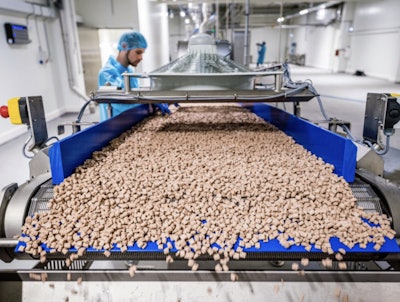 Courtesy Kormotech
In the face of Russia's ongoing invasion of Ukraine and the resulting economic and logistics challenges for the Ukrainian pet food industry, local producer Kormotech is carrying out investment and foreign expansion plans for 2023 and beyond. The pet food maker is pursuing an investment program worth €14 million (US$15.5 million) to raise its production capacities and strengthen its foothold in numerous foreign markets.
The war has boosted the Ukrainian company's efforts to bolster its international presence. This year, Kormotech expanded its sales to 39 countries, up from 19 countries five years ago, the business said in a statement.
"Exports are expected to grow from 22% of our total sales in 2022 to 30% this year, and between 60% and 70% by 2028," the statement read. "In 2023, Kormotech will focus on the U.S., Latvia, Lithuania, Romania and Moldova, and we intend to go deeper into these markets to gain a higher market share."
One of Kormotech's goals for 2023 is to reach annual revenues of US$150 million, up from US$124 million last year. The pet food business also aims to modernize its Ukrainian wet plant. Together with the company's ongoing project to expand its dry pet food factory in its domestic market, the two investments are worth about €8.5 million (US$9.5 million).
Pet food production capacities on the rise
Kormotech is headquartered in Lviv, in Ukraine's western part, where it also produces pet food. As the armed conflict continues to impact the company's operations in Ukraine, Kormotech is diversifying its capacities by developing facilities in neighboring countries such as Lithuania and Poland.
In 2023, the firm's Lithuanian manufacturing capacity rose by about 4,000 tons. Launched in August 2022, the Polish facility stores two months' worth of Kormotech's pet food stock.
"At the Lithuanian plant, the company integrated a new technology for the production of wet feed for the premium and super premium segments," according to Kormotech. "Investments in the Lithuanian plant in the years 2022-2023 will total €5.4 million (US$6.1 million)."
Owing to the ongoing investments, the wet food production capacity of the company's Lithuanian factory will increase by 25%, and the wet food manufacturing capacity of Kormotech's Ukrainian plant will rise by 65%, the company said.
New pet food product development under way
In the meantime, Rostyslav Vovk, CEO and co-owner of the Ukrainian pet food maker, told Petfoodindustry.com that Kormotech is also working on adding new products to its portfolio, aiming to introduce them in the first half of 2024. "We are preparing several novelties for the market before the Interzoo show which will take place in May 2024. We plan to present a new brand and several lines for existing ones," he said.
Asked about the company's most successful products in its foreign markets, Vovk said that Kormotech's premium Club 4 Paws brand is its most popular pet food product in Eastern and Central Europe, and can be considered "the driving force behind the company's presence in the region. The company will focus on promoting Club 4 Paws products over the next five years.
"The super-premium class brand, Optimeal, is reporting a growing demand in Western Europe and the U.S., and we see that customers really love it," Vovk continued. "Asian countries are also showing strong interest in this brand."
Initiatives to help Ukrainian pets
Kormotech is also developing ties with various charities from the U.S., Lithuania and other countries to deliver pet food to those in need under its flagship Save Pets of Ukraine initiative. A team of volunteers assembled under the company's initiative works to deliver pet food to feed homeless pets and deliver pet food to those who cannot afford to buy it. In addition to food for dogs and cats, the initiative also supports supply of collars, cages, tick repellents and other products to Ukraine's pets.
Another program developed by Kormotech, Adopt Pets of Ukraine, is a shelter patronage initiative to encourage foreigners to adopt Ukrainian pets who have suffered due to the ongoing war.