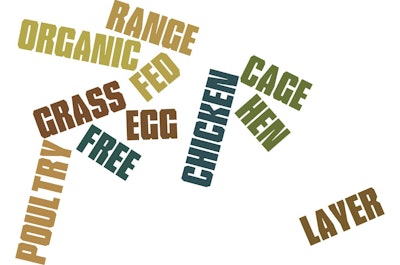 Andrea Gantz
Caru Pet Food adopted an animal welfare policy with a particular focus on the supply chain of chickens destined for a specific recipe. For the Caru Daily Dish Chicken Stew for Dogs formulation, Caru has committed to source chicken ingredients with an animal welfare certification recognized by the American Society for the Prevention of Cruelty to Animals (ASPCA)'s Shop With Your Heart program by June 1, 2025, Adrian Pettyan, co-founder and CEO of Caru told Petfood Industry.
The ASPCA coordinated with Caru to develop the policy. The ASPCA non-profit organization was founded in 1866 to advocate for animal welfare.
"The certifications recognized by the ASPCA include Animal Welfare Approved by A Greener World, Global Animal Partnership and Certified Humane," Pettyan said. "While the standards of each animal welfare certification differ and represent a spectrum of farming models, they all represent a meaningful improvement compared to conventional poultry operations. These certifications provide, at minimum, more indoor space, a cleaner environment with better air quality and lighting, and require critical enrichments to allow birds to engage in natural behaviors. Some of these programs require a healthier breed of chicken to be used as well, since the conventional breed of bird, the Cornish Cross, has been genetically selected for rapid and disproportionate growth that can negatively impact the bird's health. Each of the certifications' standards are publicly available to offer much-needed transparency to the chicken industry and are verified by independent on-farm auditing at least every 12-15 months."
Animal welfare relevance to pet owners
Along with expressing the company's ethos, committing to animal welfare may help Vero Beach, Florida, USA-based Caru market its products. Pet owners' relationships with their own pets may make those people more prone to caring about other animals from livestock to wildlife.
"Farm animal welfare resonates deeply with American pet parents," Pettyan said.
The ASPCA commissioned market research firm Ipsos to conduct a nationally representative, independent survey of pet owners to gauge attitudes towards animal welfare related to pet food, he said. The results suggest that pet owners were more likely to report that they are concerned about farm animal welfare than non-pet owners, about 75 percent of pet owners versus about 50 percent of non-pet owners.
"Beyond being even more likely to be concerned about farm animal welfare, pet owners are also willing to change their purchasing decisions for their pets and themselves based on their empathy for farm animals," Pettyan said. "When purchasing pet food, national polling shows that nearly 9 out of 10 shoppers (87%) would be likely to switch to another brand of pet food if they knew the brand put more care into where animal-derived ingredients were sourced. Pet parents are even willing to pay more for higher-welfare pet food: most Americans (82%) who purchase pet food are willing to pay up to 10 percent more, and more than half (52%) are willing to pay 15%more to ensure the animals raised for that pet food are raised more humanely. Finally, pet owners reported that their concern for farm animal welfare even influences their decision to consume fewer animal products themselves."