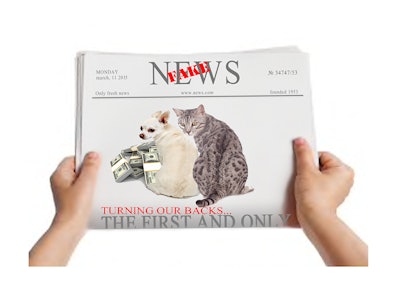 Reality: Petco is only removing some artificial ingredients, not all. Ingredients not included on the "banned" list include sodium acid pyrophosphate, sodium tripolyphosphate and potassium sorbate, to name a few.
For many of you who have been following my blog, you know I have covered many topics such as nutrition, real claims versus marketing puffery, human grade pet food requirements and consumer advocacy in the pet food industry. When I was asked to write this blog, I thought all my focus would be on pet food companies. To me this seemed logical since they take up the majority of headlines in the press and advertising on television (with the exception of Chewy).
I believe it is fair to say that some companies play in a gray area when it comes to marketing by carefully wording their claims and advertising for "plausible denial," when in fact they can be plain misleading. For example, one pet food company makes promises of less medications, fewer veterinary visits and allergy relief when a pet consumes their product. That said, I never would have imagined that I would be writing a blog post about one of the industry's top retailers.
Geeking out in the pet food aisles at Petco
In November 2018, Petco made the announcement that they would be "the first and only major retailer of pet food to not sell pet food and treats with artificial ingredients." For many of us who have been formulating and working in the pet food industry, we thought that was a very bold statement and started imagining what companies would be culled from the new Petco standard.
As a pet food industry geek, I immediately went to one of my many local Petco stores and started walking the aisles. It quickly became apparent that there were some easy targets for removal because they were products that were also carried in food, drug and/or mass stores.
As I began to look deeper at the labels, I was approached by a very courteous and eager employee asking if I needed any help. I simply replied no thank you, explained I have been in the industry for quite some time and asked the employee how they thought the layout would change with the new announcement. The employee asked me to hold on for a second and came back with a "cue" card and started explaining how the transition was going to take place.
Once I realized the employee was using the card for reference, I simply asked if I could see the card, and the employee obliged. Additionally, I asked if they would mind if I took a photo of the card. Again, they obliged; see below.
Petco handed out this "cue card" to employees to help them answer questions about the transition to new pet food brands without artificial ingredients. l Photo by Ryan Yamka
Petco's cue card – interpreting the press release
As you can quickly see from Petco's cue card, many of the foods being culled from their stores appear in food, drug and/or mass stores, with some exceptions (e.g., Halo). Yet, many of these foods being culled do not use artificial preservatives, flavors or colors (e.g., Blue Buffalo, Nutro, Purina Beyond.) The other underlying factor that becomes apparent to those of us in the industry is that many of these have either low margins (less profitability) or low turn rates (low sales). I guess a press release titled, "Petco will be the first and only major pet food retailer to not sell foods that are less profitable, have low sales and are sold in food, drug or mass" is not as newsworthy and likely to make it into a Forbes article.
In the Forbes article, Ron Coughlin, Petco's CEO, said, "We believe that by being a trusted advisor we can help our customers and lead them to healthier choices. We believe we can and should do it. Job number one is doing right by the pets and we believe the business will follow." Now, I would believe that statement to be true if I was a trusting consumer or someone not involved in the industry. How so?
If Petco gave an example for why certain products on the cue card were being removed, then I would better understand the picture or the headline of their press release. For example, the culling of Fancy Feast was for the usage of the ingredients artificial flavor and sodium nitrite (color retention). Another example would be the culling of Pedigree for the usage of sodium tripolyphosphate (artificial preservative for water retention) in their products. Lastly, the culling of Sheba because of the usage of sodium acid pyrophosphate (color and water retention), potassium sorbate (mold and microbial inhibitor) and titanium dioxide (colorant for whitening).
However, Petco failed to provide these examples in their press release or on the cue card given to employees for the transition.
Careful wording for plausible denial
In the beginning of this blog, I mentioned the usage of "careful" wording in claims and advertising for plausible denial. If you are like most consumers and people in the industry, you would have simply read the Petco announcement and the Forbes article and likely said, "Wow, this is a game changer." The Forbes article compared the announcement to that of CVS in 2014 when it decided to stop selling cigarettes – crazy, right?
Unfortunately for the industry and the consumer, if you took the press release at face value, you would have been misled. The press release tells you to go to Petco.com/betternutrition to better understand their stand against artificial ingredients/foods. Coincidentally, they never did create a hyperlink to this list (you must copy and paste the link); however, they did for the media kit – maybe a minor oversight?
Once you take the time to copy and paste the website information (or use my hyperlink above), you will find a list of Petco's "new" nutritional standards banning the usage of 12 artificial colors, 22 artificial flavors and 20 artificial preservatives. To the average consumer and people in the industry, this list looks legit, right? Wrong! It is what is missing from the list that becomes apparent to someone skilled in the trade of formulation and food science.
In the examples I used above for possible culling of certain items, you will see that I used very specific examples of artificial ingredients: sodium tripolyphosphate, sodium acid pyrophosphate and potassium sorbate. These three artificial ingredients in particular are all known and routinely used in the pet food industry (except in products with "natural" claims). Also, these three widely used artificial preservatives are not on the list of banned artificial ingredients on the Petco.com/betternutrition web page. Additionally, you will not see sorbic acid, phosphoric acid, ascorbic acid or zinc propionate, to name a few others.
Why aren't all artificial preservatives banned?
Well, the answer is very simple: Why would you ban yourself? That would just be silly! Toward the bottom of this page are two examples from Petco's Whole Hearted private label line that are readily available at your local Petco store or online. Note the highlighted names in the ingredients lists: sodium acid pyrophosphate and sodium tripolyphosphate.
As for the other non-banned artificial ingredients I mentioned above, they are commonly found in treats. Not surprisingly, treats are typically the highest margin products in the industry, which is likely why the other artificial ingredients I mentioned also did not make the banned list. In addition, take note that the examples below are not labeled as natural or natural with added vitamins and minerals.
Being a trusted advisor means being transparent
If Coughlin and Petco truly believe that they should be a "trusted" advisor by helping their customers and leading them to healthier choices, then they need to be completely transparent as well, especially when it comes to overarching statements like turning their back on artificial ingredients. Otherwise, people may think you are turning your back because you are laughing about how you got one over on the customers you are trying to advise.
A safer and more transparent statement would have been: "Our goal is to remove all artificial ingredients in the future. For now, we are starting with this list of artificial ingredients for immediate removal while recognizing that Petco's and other foods still contain artificial ingredients like sodium tripolyphosphate and potassium sorbate. Our research and development team and our brand partners are working diligently to identify natural and safe replacements." Just a thought!
Got topics?
If there are topics you would like to have discussed, feel free to comment below or reach out via LinkedIn: www.linkedin.com/in/ryanyamka.
Petco's own products not culled from its pet food offerings
Here are the ingredients lists of two products from Petco's Whole Hearted private label pet food. Despite the presence of artificial ingredients (highlighted), the products are currently still on Petco's shelves.
Whole Hearted All Life Stages Canned Cat Food - Grain Free Chicken Recipe Flaked in Gravy
Ingredients: Chicken, Chicken Broth, Water Sufficient For Processing, Tapioca Starch, Sunflower Oil, Tricalcium Phosphate, Salt, Sodium Acid Pyrophosphate, Calcium Sulfate, Xanthan Gum, Tuna Oil, Magnesium Sulfate, Potassium Chloride, Choline Chloride, Fructooligosaccharide, Taurine, Zinc Oxide, Reduced Iron, Vitamin E Supplement, Sodium Selenite, Manganese Sulfate, Niacin Supplement, Thiamine Mononitrate, Vitamin A Supplement, Copper Glycine Complex, Vitamin B12 Supplement, Pyridoxine Hydrochloride, Calcium Pantothenate, Riboflavin Supplement, Biotin, Potassium Iodide, Vitamin D3 Supplement, Folic Acid, Menadione Sodium Bisulfite Complex (source of Vitamin K activity).
Date accessed: March 8, 2019. https://www.petco.com/shop/en/petcostore/product/cat/cat-food/wet-cat-food/wholehearted-all-life-stages-canned-cat-food---grain-free-chicken-recipe-flaked-in-gravy
Whole Hearted Grain Free Turkey Recipe Pate Adult Wet Cat Food
Ingredients: Turkey broth, turkey, chicken, dried egg product, tapioca starch, turkey powder, salt, sunflower oil, calcium sulfate, sodium tripolyphosphate, potassium chloride, guar gum, locust bean gum, taurine, fish oil, celery powder, vitamin e supplement, zinc oxide, reduced iron, niacin supplement, thiamine mononitrate, vitamin a supplement, sodium selenite, manganese sulfate, vitamin b12 supplement, pyridoxine hydrochloride, copper amino acid complex, calcium pantothenate, riboflavin supplement, biotin, vitamin d3 supplement, folic acid, potassium iodide, menadione sodium bisulfite complex (source of vitamin k activity).
Date Accessed: March 8, 2019. https://www.petco.com/shop/en/petcostore/product/cat/cat-food/wet-cat-food/wholehearted-grain-free-turkey-recipe-pate-adult-wet-cat-food#