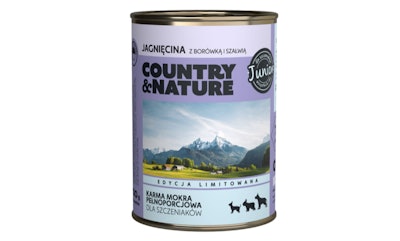 Courtesy Dr. PetCare
Czech pet food maker Vafo Group has announced it is launching Planet Pet Society, a new brand of sustainable dog and cat foods using raw ingredients comprising unused food resources from human consumption. "Planet Pet Society is 100% climate neutral. In production, it uses local raw ingredients, renewable energy sources and fully recyclable packaging," the company said in a statement.
"A full 1% from sales of the new food goes to a project to restore seagrasses in the Baltic Sea that provide shelter for many animals," the company said. "In this way, Vafo is directly contributing to the protection of biodiversity."
Vafo Group said that Planet Pet Society products are manufactured with the use of raw animal parts sourced from primary production, including meat trimmings, organ, cartilage and fish skin, among others.
Karolína Čápová, head of product at Vafo Group, said the company considers upcycling as representing "a new way of looking at the selection of quality, nutritionally rich ingredients with a smaller impact on the planet. They're ideal for covering the natural nutritional needs of dogs and cats with a primary component of animal protein, while at the same time easing the strain on the environment."
Other European companies have also announced product and facility expansions.
Polish pet food, care company expands portfolio with new products
Polish pet food and care business Dr. PetCare has launched a new range of wet cat food under its Country & Nature brand, according to Mariusz Wojciechowski, the company's chief executive. "Dr. PetCare has been present in the Polish market for two years. In line with our plans, over the past 1.5 years we have significantly expanded our range and also the distribution of our products," he said.
In addition to wet cat food, the Polish company has also "prepared a number of new products, such as new variants of wet pet food, including wet pet food for puppies," according to the CEO. He added that with the latest launches, Dr. PetCare offers more than 50 products to local consumers.
"This includes a range of grain-free dry dog food based on fresh meat, available in three flavors and bag sizes; three ranges of wet food for dogs and one for cats; dietary supplements for dogs and cats; biocidal collars; CBD oils; and also several other products that we distribute," Wojciechowski said.
Asked about the company's potential foreign expansion plans outside Poland, he replied that Dr. PetCare is "in the process of planning to broaden the presence of our premium pet food ranges. We are looking at some neighboring markets, looking for the right distribution model" to access them.
Turkish pet food maker launches new factory
In a bid to expand its product range, Hasvet Medikal, an animal health and nutrition industry company based in Turkey, has opened a new plant in the Kırklareli organized industrial zone, in the country's northwestern part. At the factory, the company will produce pet food under its Fi Petfood brand.
Speaking at the official launch ceremony, Hidayet Şimşek, the firm's chairman of the board of directors, said that the past years have allowed Hasvet Medikal to increase its foothold in a number of foreign markets, as reported by local news agency IHA.
The new production facility has an output capacity of 10 tons of pet food per hour, using fresh meat to make its products, Şimşek said. Hasvet Medikal "is a well-established company that entered the animal health sector 27 years ago. We are a company that makes many products that veterinarians need.
"We are here together for the launch of the Fi Petfood brand at a facility established for pet food production … which we added to our [company's] ecosystem as the last component," the chairman said.
The value of the investment in Kırklareli was not disclosed.